China home prices rise in January but at slower pace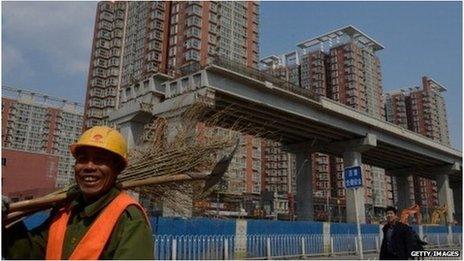 China home prices have suggested a potential cooling-off in the housing sector at the start of this year.
Average new home prices in China's 70 major cities rose 9.6% in January from one year ago, easing from December's 9.9% increase.
This is the first slowdown in the rate of price increases in 14 months, since November 2012.
Home prices in top-tier cities Beijing and Shanghai also rose in January, but at a slower rate from December.
Property purchases remain a popular investment choice in China, and that kept prices rising in 2013.
But the momentum slowed down late last year, after the People's Bank of China, the central bank, progressively tightened monetary conditions to rein in excessive lending growth.
The monetary tightening has raised the cost of funding for banks and that, in turn, has led to higher mortgage costs for home buyers.
A prolonged slowdown in the property sector will also affect China's construction sector, which is an important growth driver for the world's second-largest economy.
Brian Jackson, China economist with consultancy IHS Global Insight, said: "A sharper or longer downturn this year would likely lead to additional public housing or shanty town renovation programmes to provide a buffer from the construction sector and related heavy industries."
Analysts will be watching the National People's Congress (NPC), an annual meeting of Chinese lawmakers, for details on any curbs to rein in speculation in the property sector, and what measures Beijing would implement to avert an asset bubble.
The NPC starts next week on 5 March.