Mothercare chief executive Simon Calver resigns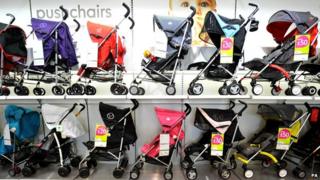 Mothercare chief executive Simon Calver has resigned, the mother-and-baby products retailer has announced.
The firm gave no reason for Mr Calver's departure, but said he had resigned with immediate effect and would leave the company at the end of March.
Mothercare has been carrying out a restructuring plan in an attempt to stem losses at its UK business, including the closure of many stores.
However, the retailer issued a profit warning in January.
The warning was triggered by disappointing trading over the Christmas period, when the retailer suffered from fierce price competition in the UK and weak economic conditions overseas.
Group worldwide sales fell 6.1% in the 12 weeks to 4 January, with UK like-for-like sales down 4%.
Announcing Mr Calver's departure, Mothercare said it remained confident in the underlying strength of the business and that full-year results should be in line with current forecasts.
"The strategy remains to restore profitability in the UK business to complement the strong and growing international operations," the firm said.
The retailer operates 191 Mothercare stores and 40 Early Learning Centre outlets in the UK. It also has 1,201 international stores across 59 countries.
However, it has been hit by competition from supermarkets and online retailers. Since it began its restructuring programme, it has closed 80 stores in the UK.
In the 2012-13 financial year, Mothercare's UK business recorded a loss of £21.7m.
In a statement, Mothercare chairman Alan Parker said: "Since Simon Calver joined Mothercare PLC in April 2012, under his leadership the company has made progress in implementing the Transformation and Growth plan.
"In particular, Simon Calver's e-commerce expertise has allowed Mothercare to accelerate its development as a multi-channel retailer in the UK. We wish him well in the future.
"Mothercare has a strong executive management team which is very capable of running the business in the interim while the search for a new CEO is under way."
Mothercare said Mr Calver would receive a payment of £250,000 in lieu of six months' notice.