Can friends make it in business?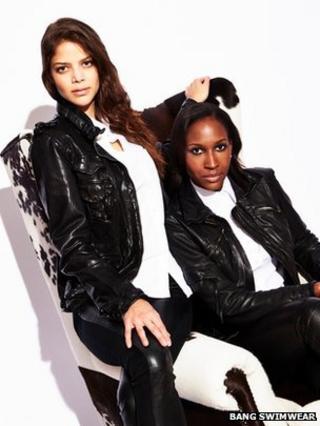 You get along brilliantly, you socialise together, you confide in each other, you trust each other - you're best friends. But could you ever run a business together?
For many the support of a strong friendship is exactly what is needed to start a company from scratch. Yet the dynamics of friendship do not always translate well into a business partnership.
So what are the potential pitfalls of going into business with a friend, do the benefits outweigh the risks, and what are the secrets of success?
For high-profile swimwear model Nell Robinson, 27, and her fashion-buyer friend Ann Marie Clarke, 29, the biggest risk of launching their Bang Swimwear brand was losing their friendship.
"The main concern was that we didn't allow anything negative that happened to the business affect our friendship," says Ms Clarke.
"At first we were tip-toeing around each other, not wanting to hurt each other's feelings, but now we've learnt to be brutally honest with each other when it comes to the business so that we create the best possible line."
The pair met while at school in Jamaica, then bonded at a glitzy event when Ms Clarke's high-heeled shoe broke and Ms Robinson loaned her a spare pair.
"I remember that incident really cemented our friendship, and we still laugh about it now," Ms Robinson recalls. "Shortly after that we both moved to London and stayed close friends."
Bang is still a young company but so far progress looks promising, with sales healthy, a following that includes model Cara Delevingne and singer Rihanna, and a new high-summer collection about to launch.
"We understand each other's strengths and weaknesses," says Ms Clarke.
'Fuzzy' lines
But the blurring of boundaries can prove complicated for friends in business. Alexis Miesen, 38, and Jennie Dundas, 43, were flatmates and friends before they set up their company, Brooklyn-based Blue Marble Ice Cream, in 2007.
"Sometimes it's hard to know when to wear your friend hat, when to wear your business partner hat, or when - and how - to wear both," admits Ms Miesen. "Lines, roles and expectations can get fuzzy.
"I don't think we were ever at risk of losing our friendship, but there were certainly some hard times in the early days that caused us both a good amount of stress.
"Jennie and I have very personal different aesthetic styles, and when we have disagreed on something design-related, it's been hard to keep the business conversation from becoming a personal confrontation because these involve our personal feelings. A criticism or dismissal can be hurtful, especially when the stakes are high and emotions like stress and doubt are pushed right to the surface."
The fact that they are friends can exacerbate the impact, she says. "Often, that hurt is then translated into a determination to be 'right' and the conversation is taken over by trying to prove our point and 'win' the argument."
Still, it is something that the two of them are aware of, and have largely overcome.
"Over time, I think we've learned how to communicate in respectful, constructive ways and give each other's ideas and feelings the consideration they deserve," says Ms Miesen. "That doesn't mean we're always successful at it, but we definitely try!"
Agree it in writing
The duo are clearly doing something right.
In 2012 the firm became New York City's first and only certified organic ice cream company, and also set up its own manufacturing facility in Brooklyn.
So what advice would Ms Miesen offer to those considering a similar path?
"You need to enter into the venture with a very clear and unified vision," she says.
"And no matter how much you love, trust and respect each other, I would urge friends to engage an attorney to put a very clear and comprehensive operating agreement in place. Even if things always go smoothly, it's still smart to have the details of the partnership laid out in writing."
But while there may be ups and downs along the way, Ms Miesen says being in business with a friend does bring unique rewards.
"There is so much about the experience that is exciting, challenging and scary. Having someone at your side, riding both the highs and lows with you, is so rewarding and really such a relief. And it makes it all the more special when that someone is a person you care about."
Complementary skills
Long-time friends and business partners, interior design duo Carden Cunietti, say it is important to value your differences.
"It takes a long time to figure out that yin and yang thing," says Eleanora Cunietti. "It can be a real struggle, and some people in business partnerships don't make it."
The pair's friendship was a result of "opposites attracting" - when American-Canadian Ms Cunietti and Scottish Audrey Carden initially met at a party in the late 1980s, they didn't particularly like each other.
"I thought Audrey was twee and awful, and she thought I was really loud," recalls Ms Cunietti with a laugh. Despite this unpromising start, the pair soon became good friends, and before long set up their business.
While the duo share an aesthetic vision - interiors that are glamorous, eclectic and colourful - they admit they have very different personalities and sensibilities. But somehow the mix works - while Ms Carden is the "starter" and good with people, Ms Cunietti is a "finisher" with a strong eye for detail.
It is important in any business partnership to distribute the workload evenly, and arguably when you are friends even more so.
"We're both hard workers and neither of us has children, so that helps to make the division of labour equal," says Ms Cunietti.
And their friendship? A couple of decades on, still very much intact, it seems. They live near each other, socialise together, their husbands are friends, and they even go on joint holidays.
"Of course, we still have rows," Ms Cunietti happily concedes. "She drives me nuts all the time and I drive her nuts all the time, but you kind of get over it, just like you do with your sister."