Walt Disney World increases prices at its theme parks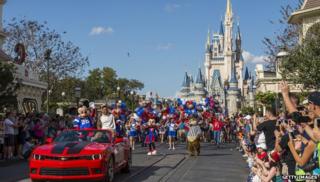 Disney has raised the price of a one-day ticket to its Magic Kingdom theme park in Orlando, Florida by $4 to $99 (£59.50).
Magic Kingdom is the world's most visited theme park, with more than 17 million visitors in 2012.
Ticket prices at other parks within Walt Disney World, including Epcot and Hollywood Studios, also jumped by $4.
The hike comes after Disney reported surging revenues from its theme park businesses.
In 2013, Disney made $671m from its theme parks - a 16% increase from the same period in 2012.
Overall, its parks brought in $3.6bn in revenue in 2013, a 6% increase from 2012, according to the firm's most recent financial filings.
The boost in revenue was "primarily due to increased guest spending at our domestic parks and resorts, which reflected higher average ticket prices and food, beverage and merchandise spending," according to Disney.
Disney said that the majority of visitors to its parks buy tickets for multiple days.
The company has theme parks throughout the world, with locations in Paris, Tokyo, and Hong Kong.
According to a report from the Themed Entertainment Association and technology company AECOM, Disney's theme parks globally had more than 126 million visitors in 2012, the most recent year for which statistics are available.