How Johnnie Boden came to dress the UK's yummy mummies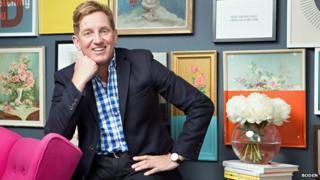 "Ugly building. Nice clothes," says the sign outside mail order clothing firm Boden, provider of the unofficial uniform for so-called yummy mummies and their children across the UK.
The firm's headquarters, in a concrete block on a drab London trading estate, are about as different as you can imagine to the bright prints and elegant styling of its clothing worn by the prime minister's wife Samantha Cameron and US First Lady Michelle Obama.
You might have expected something more glamorous for a firm whose catalogues depict the ultimate middle England fantasia of rosy-cheeked children and smart women in fashionable (but not too fashionable) outfits.
But 52-year-old founder Johnnie Boden, worth £215m according to The Sunday Times Rich List, is not a man prone to extravagance.
'You are the milk in my tea'
This is not the only contradiction.
The man whose booming tones thank customers for calling if they phone out of hours, and sends them a letter saying "Johnnie" is missing them if they haven't ordered for a while, is surprisingly self-effacing in person.
He says the decision to link the business so closely with himself was not because of a louder-than-life personality, but a way to differentiate Boden from rival clothing brands.
"The clothing market is very saturated and you need everything you can summon to make yourself seem different."
Boden, who brings his dog Sprout into work with him once a week and who charms customers with sentences such as, "You are the milk in my tea, the sauce on my chips and the dark bits in my ginger hair," is a far cry from the light-hearted image he projects.
He is keen to emphasise that despite all the frivolity featured in his catalogues with models answering whimsical questions such as, "What gets your knickers in a twist?" and "What's the biggest fib you've ever told?", running Boden is a serious business.
Pushed into action
Johnnie Boden benefited from an expensive education at Eton and then Oxford, but later had to make "enormous sacrifices" when he started the business.
He had to put his house on the line to keep the company going, and worked round-the-clock.
In fact, he wouldn't have founded it at all if it weren't for his now wife telling him he was "a failure" and needed to get his act together.
He had received an inheritance from his uncle enabling him to leave the City stock-broking job he'd spent five years loathing, but still "wasn't quite brave enough" to launch the firm and needed the extra push.
To get started, he spent time with other entrepreneurs. "I demolished the fear that you had to be superman to start your own business. I realised actually that anyone can do it," he says.
One-man band
In 1991 he launched Boden, starting out with eight menswear products which he hand-drew himself for the catalogue.
A year later, having realised men were not big spenders on clothes, he launched women's clothing and in 1996 childrenswear.
All this time, Boden was a one-man band - doing everything from designing the clothes to taking photos for the catalogue.
"It was clearly pretty amateurish," he says self-deprecatingly.
More than two decades on, everything is still designed and produced internally, albeit now with 1,096 staff.
"If you're going to build a brand you need to control as much as you can. And you don't want too many sets of eyes," he says.
He now employs a chief executive and finance director, and as managing director claims to have "stepped back in many areas", but admits his wife would disagree.
He still signs off "pretty much everything", but his main focus is determining Boden's growth strategy.
'Run its course'
In the UK the typical household income of a Boden customer is between £60,000 and £70,000 - less wealthy, he says, than many suspect.
The brand targets customers aged from 25 to 50, but what Boden calls the "bulls-eye" is the 35-year-old woman who typically has children, and for whom the most important thing is that the clothes are flattering.
"Sometimes a lot of catwalk trends, for example oversized coats, are hideous. Unless you're young and skinny it just doesn't look very nice."
In 2011 Boden reported a sharp 45% drop in pre-tax profits to £17.9m, citing higher cotton prices and heavy discounting across the sector.
But it also marked the first time that international sales outpaced those in the UK and the company admitted that its home market remained challenging.
Boden says the brand is influenced by fashion, but does not "slavishly follow" trends. However, he admits its current strategy has "probably run its course" at home and that "the bigger and easier opportunity" is abroad.
In 2012, pre-tax profits recovered, rising 36% to £24.3m, largely thanks to international sales which continued to grow.
International sales now account for about 55% overall. Its biggest market is the US, where Boden was launched in 2002.
Americans, Boden says, think the brand is very stylish. "So their idea of stylish is different to a European's idea of stylish."
Some 1.5 million people currently wear his clothes and Boden calculates that if he started opening shops he could quadruple the number of potential customers.
But he has no plans to do so, as he believes it would divert staff's focus from growing overseas sales.