Trans-Pacific Partnership: No deal at Singapore meeting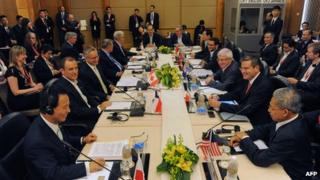 An ambitious 12-nation free trade plan, the Trans-Pacific Partnership (TPP), has hit a new roadblock after four days of negotiations in Singapore.
Sticking points over market access and differences over tariffs on imported goods were the main reasons cited.
TPP members were also aiming to set a common trading standard on a range of issues, including labour regulation and environmental protection.
Negotiators were initially hopeful that a draft deal would be ready in April.
That is when US President Barack Obama is scheduled to visit the region.
A TPP deal at that time would solidify the US pivot to Asia.
Some analysts had suggested the US might be trying to use the TPP as a means to undermine China's growing economic power in the region.
But differences on the issues of tariffs on imported goods, particularly between the US and Japan, are becoming difficult to overcome.
Agricultural tariffs have become a bone of contention for Japan, which is trying to protect its rice, wheat, beef and pork as well as dairy and sugar from outside competition.
Meanwhile, other TPP members with a fairly large agricultural sector available for export, are pushing for the elimination of all tariffs.
Twelve countries are involved in the TPP talks: Australia, Brunei, Chile, Canada, Japan, Malaysia, Mexico, New Zealand, Peru, Singapore, the US and Vietnam.