Target profits plunge 46% after holiday security breach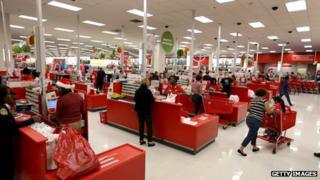 Profit at the US retailer Target has plunged 46% after a massive security breach over the holiday season, which cost the firm $17m (£10m).
Target said it earned $520m in the three-month period ending on 1 February.
It said that sales fell 5.3% as scared customers stopped shopping once the breach was revealed.
At least 70 million customers were affected by the hack, which occurred between 27 November and 15 December.
"Results softened meaningfully following our December announcement of a data breach," said Target chief executive Gregg Steinhafel in a statement.
"As we plan for the new fiscal year, we will continue to work tirelessly to win back the confidence of our guests and deliver irresistible merchandise and offers, and we are encouraged that sales trends have improved in recent weeks," he added.
However, the company also said it could not estimate future expenses relating to the breach, and issued a profit warning for 2014.
Nonetheless, the fourth quarter profits beat many analysts' expectations, and shares in Target rose more than 4% after the earnings were released.
Target's share price has declined 11% since the breach was revealed in December.