RBS set to make £1bn from remaining Direct Line stake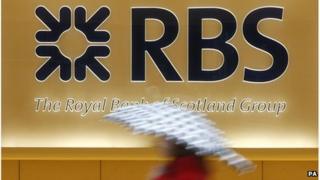 RBS has announced plans to sell its remaining stake in Direct Line, which could net the taxpayer-owned bank more than £1bn.
The bank said it would offer 423.2 million shares, which is about 28% of the insurance firm.
RBS was ordered to sell Direct Line as a condition of its 2008 bailout. It will retain a few shares to cover long-term incentive plans for executives.
It is expected to report an £8bn loss in its full-year results on Thursday.
Based on the current value of Direct Line shares, which closed at 263.34p on Wednesday, the sale of the remaining RBS stake could generate £1.1bn.
The bank sold 20% of its holding in the insurer in September, generating £630m.
Under European Union competition rules, imposed after the £45bn taxpayer bailout of RBS, it must sell its entire holding by the end of this year.
Earlier on Wednesday, Direct Line reported a 70% increase in full-year pre-tax profit, helped by a reduction in home insurance claims.