Geneva Motor Show: Europe's car industry in optimistic mood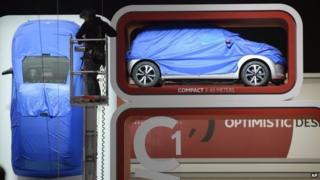 Europe's premier motor show revs its engines this week, so expect the usual swagger from an industry that knows all about marketing hype.
Perhaps there is more cause for celebration than usual at this year's Geneva Motor Show, given that recent data has pointed to a mild recovery in European sales.
But drill deeper into the figures, and there is still concern about whether the increase is sustainable.
"People are slightly more positive because things are not getting any worse," says Carlos Da Silva, Paris-based analyst at IHS Automotive.
"After a period where survival became the key word for many players in the industry, we are finally entering the revival phase," he says. "But it's still weak."
Is this an overly pessimistic view? Latest figures from the European Automobile Manufacturers' Association might suggest so.
Car sales in the European Union have risen for five consecutive months.
Europe's five biggest markets have all posted sales-gains recently, as have the crisis-hit economies of Greece, Portugal, Spain and Ireland.
Even Italy has improved, registering in December and January its first back-to-back monthly rises in four years.
And the growth appears to be across the model range, from premium brand Audi, to low-cost Dacia, to that mainstay of the showroom, the Ford Fiesta.
Artificial support
It is undoubtedly better news for an industry that slumped deep into recession. But it should not be forgotten that this sales increase comes off a very low base.
Last year, European sales shrank 1.7% to 11.85 million vehicles, the worst since 1995 and some distance from the pre-crisis high of 14.79 million.
Many people wonder if the recent improvement owes less to economic fundamentals and more to artificial support.
"The question," says Allan Rushforth, chief operating officer at Hyundai Europe, "is how much of that recovery is organic and how much is the result of actions taken by governments and carmakers?"
Some manufacturers have been able to sustain market share only by huge discounting. It is not a strategy that Hyundai is pursuing - and consequently its sales have fallen.
But it means Hyundai is "laying the foundations of qualitative growth", he says. Can the company's European rivals make the same claim?
The German trade magazine Autohaus PulsSchlag tracks discounting in car showrooms, and says that most major manufacturers have been offering price cuts of at least 10%.
In Germany, Europe's biggest market, discounts are running at about 11% on average, although that is the lowest for two years.
Government-backed car scrappage schemes have been successful in bolstering sales, especially in Spain. But such schemes are not a long-term solution.
Even in the UK, where car sales in 2013 were the strongest since 2007, there are worries that this is a one-off surge spurred by cheap credit and huge windfalls due to banks repaying money from mis-sold insurance protection.
Investment
Only when such distorting factors have been unwound will we have a truer picture of the health of the market, says Peter Fuss, a partner at Ernst & Young's Global Automotive Centre, in Frankfurt.
But this could be some time, he adds. Despite years of mass lay-offs and cutbacks, European car manufacturing still suffers from overcapacity. "If you produce more cars, it helps utilise that capacity - so although discounting affects margins, it at least helps cover costs," Mr Fuss says.
German manufacturers, at least, have tackled overcapacity, and France's Renault has moved production to cheaper locations.
Rather belatedly, Peugeot-Citroen is getting its house in order and new models are doing well.
One sign of confidence among manufacturers is investment. Money has been poured in to Jaguar Land Rover by its Indian owners Tata, while Ford is increasing Fiesta production at its Cologne plant.
It all suggests that manufacturers are in better shape to meet the recovery.
But Mr Da Silva says carmakers are only investing now because they have left it so late. There comes a point in the cycle where they "need to put something new in the showroom", he says.
Erich Hauser, London-based automotive analyst at International Strategy & Investment Group, is more bullish about the future than many.
He thinks we are reaching a tipping point, when a new cycle of renewals will boost the industry.
In particular, he expects lease cars - broadly 60% of the European total - to be renewed as confidence and corporate profits pick up.
Replacement cycle
Mr Hauser says: "There is a high number of lease vehicles in the three-to-five-year age bracket on European roads. Many cars were bought just at the start of the financial crisis, or when scrappage and support deals were on offer.
"I think that many vehicles will now be replaced," he says. "Also, used car prices are rising, so these lease cars still have a good residual value to use when trading."
Better economic conditions and rising consumer confidence will also unleash pent-up demand, he forecasts.
"Going into the economic crisis, the oldest car market was Greece and the youngest was in Ireland. Sales in both have risen above the European average.
"Even in the most hard-hit markets, people still want - or need - to buy a car," Mr Hauser says.
However, not everyone shares his confidence. "Austerity measures are far from over and job markets remain tense in many countries," says Mr Da Silva. "This implies that a derailment is always a possibility."
Furthermore, he adds: "I don't think that the EU market will ever return to its 2007 peak." Changing demographics, "green" issues, urbanisation, and public transport improvements - they will lower demand for cars, he says.
"For example, you don't need a car to go to the shopping mall, because in today's world the shopping mall can come to you."