Cheltenham Festival on track for the future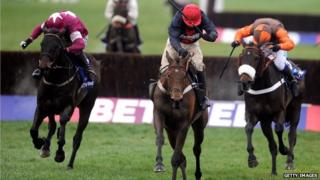 Fifty years after the Cheltenham Festival course escaped from the potential clutches of property developers, the event's organisers are building a business model for the next half century and beyond.
The famous jumps horse racing event could have been lost to a housing development if it was not for a group of Jockey Club members in 1964 - led by Johnny Henderson, father of champion jumps trainer, Nicky Henderson.
They formed Racecourse Holdings Trust - now called Jockey Club Racecourses - a non-profit organisation, that raised £240,000 to purchase the racecourse and safeguard its future.
The large amount of land was highly valuable as a property investment, says Jockey Club chief executive Simon Bazalgette, looking back at those days.
'Very positive'
Over the past 30 years, some £80m has been spent on facilities at the course, and a further £45m is to be spent on a new grandstand in time for the 2016 festival.
Work will start immediately after this week's four-day festival, which runs from Tuesday to Friday, and which Mr Bazalgette is confident will create as much interest as in previous years.
"We are very positive and very optimistic that our ticket sales will match or better last year," says Mr Bazalgette.
Two years ago the Gold Cup day attendance was 70,458, a record for a single festival day. However this year, as last year, the attendance will be capped at 67,500.
"The cap was brought in to make sure everyone has a good and safe experience," says Mr Bazalgette.
This year's festival has seen a number of new commercial partners on board - jeweller Boodles, bath and body products firm Baylis & Harding, fashion brand LK Bennett, and bookmaker Bet Victor.
Meanwhile an existing sponsor, insurance firm JLT Group, has been upgraded to backing a higher-profile race.
In addition, organisers are testing free wi-fi for festival race-goers for the first time this year.
Another new development is the presence of an Albert Roux restaurant, called Fairlawne - the first time the course has added a prime dining facility.
"Hospitality sales are strong this year, ahead of last year, and sold out on the Thursday and Friday of the festival," says Mr Bazalgette.
"The addition of Fairlawne means we will make more revenues from hospitality this year."
On the racing side a new trophy, called the Prestbury Cup has been launched across the week, for the winner of the contest between the British horses and Irish horses.
The cup will go to the first country that produces 14 winners or more in the 27-race festival.
Betting levy
The major race at Cheltenham, the Gold Cup, is sponsored by betting firm Betfred.
Jump racing's other two "crown jewel" steeplechase races are also currently sponsored by betting companies, namely the Betfair Chase at Haydock, and the William Hill King George VI Chase at Kempton.
There has been talk within racing about whether the three races could be brought under one "Triple Crown" banner with a single sponsor, and one too that might not necessarily be a betting firm.
But Mr Bazalgette says: "We would never exclude betting firms from any sponsorship opportunity - they are good consumer brands."
He adds: "A big three sponsorship deal is something we may do in the future - but it is not something we are looking at doing any time soon."
Another financial issue lurking ever-present is the matter of the betting levy. Bookmakers pay 10.75% of gross profits from racing bets to the Horseracing Betting Levy Board, which makes grants to support the sport.
However, the levy does not apply to the most "remote", ie offshore-based, gambling companies, although leading betting exchange Betfair has signed a five-year deal to voluntarily pay the levy.
"For the first time ever we have a pretty stable position for the next four years, with the industry having done a deal with the big four bookmakers and Betfair," says Mr Bazalgette.
"The fundamental issue is that remote operators on the whole don't have to pay the levy. We have to work with bookmakers to continue to build the market for horse racing."
There may be some changes afoot however, with a recent announcement in the House of Lords, that the law will be changed to force overseas bookmakers to pay the levy.
The government plans to bring forward an amendment to the Gambling (Licensing and Advertising) Bill to create a "level playing field" on the levy between UK-based and overseas bookmakers.
Building fan base
Meanwhile, the Jockey Club is continuing with a series of initiatives to sell the sport, which is second only to football in its number of spectators.
Its concerts-at-racecourses business has been brought in-house, with a new joint venture company Jockey Club Live created earlier this year.
There are also a number of ticketing and fun-day initiatives to attract children and younger adults to horseracing, and later this year a series of short audio-visual packages, called Racing Explained, will be produced for spectators.
"The aim is to demystify the sport," says Mr Bazalgette. "We are trying to help the people who go racing but are not experts, so they can enjoy the sport more, and we can build a more loyal fan base."
It is a busy time for the Jockey Club, with building firm Kier last week named as contractor to build the new Cheltenham grandstand.
"It is the World Cup of jumps racing, and it is in rude health," says Mr Bazalgette. "This year we expect it to be as big as it ever has been.
"Fifty years after saving Cheltenham from property developers, the home of jumps racing is thriving through investment."