Japanese on spending spree ahead of sales tax rise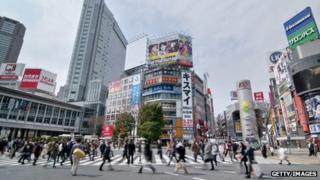 Japanese consumers are on a spending spree ahead of a sales tax hike, and companies are increasing production to meet increased demand.
The country's retail sales grew 4.4% in January compared to a year ago, marking a sixth straight month of gains.
Industrial production rose by 4% in January, marking the second straight monthly jump in factory activity.
Most of the spending and production increase is due to a rush in purchases ahead of higher sales tax in April.
The government will raise it to 8% from the current 5% to pay for rising welfare costs.
Since the middle of last year, sales of houses, cars and durable goods have been rising as consumers bought big-ticket items before the planned increase.
Deflation fading
And reaffirming that spending trend, Japanese household spending rose 1.1% in January from a year earlier.
Economists are hopeful spending will remain on the up, as the country's unemployment rate held steady in January at 3.7%.
That is the lowest jobless rate in six years, suggesting that high employment will support consumer spending.
Meanwhile, another set of data showed the world's third biggest economy is moving away from deflation, a period of falling prices which plagued Japan for nearly two decades.
Core consumer prices rose in January by 1.3% from one year ago - the eighth straight months of gains.