India's economy grows slower than expected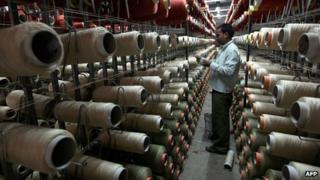 India's economic growth rate slowed down in the most recent quarter, according to official figures.
The economy expanded at an annual rate of 4.7% in the three months to December, down from 4.8% in the previous quarter.
The figure was lower than analysts had been expecting.
Asia's third-largest economy has been weighed down by various factors, such as high inflation, a weak currency and a drop in foreign investment.
For the same period in 2012, annual GDP growth was 4.5%.
This is the fifth quarter in a row that India's annual growth rate has been below the 5% mark.
Manufacturing was hardest hit - falling by 1.9% compared with the previous year. The industry is considered one of the country's biggest job creators.
However, hotels, transport utilities and agriculture all showed substantial growth.
"We continue to expect India's economic recovery to remain slow and uneven. Local conditions remain challenging, which is critical as the economy is driven primarily by domestic demand," said Capital Economics economist Miguel Chanco.
Two years ago, India's growth rate stood at about 8%. Economists say the country needs to grow by that much in order to generate enough jobs for the 13 million people entering the workforce each year.
The BBC's Yogita Limaye in Mumbai says the numbers are not good news for the ruling Congress Party, which faces elections in May.
"These figures show that the slowdown really cemented itself in 2013. All four quarters showed growth below 5%," she said.
"One silver lining [for the government] is inflation. Prices had risen steeply in the beginning of the year but over the past two months they have come down."
More than half of the country's 1.2 billion people are under 25. Chand Pandey is one of them. He lost his job at a car parts firm recently and is struggling to find another one.
"Whichever company I go to, they say there's a slowdown and there's less production," he said.
"So they're not hiring any workers right now. It's been two or three months that I've been looking for a job, but I get the same answer everywhere."