The former athletes swapping sport for business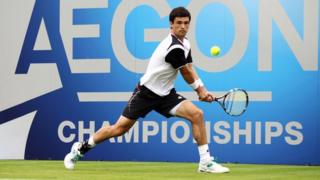 Retirement can be the toughest moment in the careers of many professional sportsmen and women.
Life as they know it changes completely; gone is the adoration from the crowds, the adrenaline rush of victory, the camaraderie with team-mates, and the regular pay cheques.
Suddenly they can feel very alone, and very low.
Former England rugby international Steve White-Cooper questioned his self-worth as his career ended.
Dan Cross, a veteran US basketball player, goes even further, saying retiring "almost felt like a death taking place in my life".
Yet after getting over the initial shock, both men have successfully launched recruitment businesses, specifically trying to help retired sports stars to gain corporate jobs.
They believe the qualities that help to make someone successful in sport are easily transferable to business, whether as part of a large firm or, in their case, becoming entrepreneurs.
Mr White-Cooper played rugby for top-flight Harlequins for five years. A flanker, he was also capped twice by England.
He says that as rugby became faster in recent years and players got bigger, the average length of career fell, owing to more long-term injuries.
He retired 11 years ago and initially found the transition tricky.
He was ultimately able to secure a job in recruitment in the City of London, and after spending six years with a large company, decided to launch his own firm.
"I could have stayed as an employee, but I have always want to challenge myself. I have always wanted more, whether in rugby or business," he says.
He saw a "huge opportunity to establish a niche recruitment company" and two years ago launched Add-Victor.
"Companies can get their hands on driven, talented people, who know the value of being in a team, winning, and working hard.
"Plus they are used to dealing with pressure, and have more life experience than your typical university graduate."
The 38-year-old said he could not believe businesses would not want to employ such people.
Add-Victor is now helping "tens" of former sportsmen and women to find work each month.
There is no cost for them, as the firm - like standard recruitment companies - instead charges a fee to the businesses that take on its clients.
One successful recruit is the former professional tennis player Jamie Baker.
The 27-year-old retired from professional tennis in 2013 after a nine-year career.
He now works for Santander, in the bank's UK hotels and healthcare division.
"There is no question that I wouldn't be here without Add-Victor helping me get a foot in the door. Otherwise my CV would have been just one of many in a large pile, and I have no formal qualifications."
Santander gets "just as much energy and enthusiasm" from him as he put into tennis, he says.
And while it took some time to adjust to a desk job, he doesn't miss the travelling involved in life on the professional tennis circuit.
'Difficult transition'
While Mr White-Cooper focuses on former professional athletes, the huge popularity of US college sport means Mr Cross's company - Athlete Connections - targets mainly ex-university sportsmen and women.
Mr Cross, 40, used to play for the University of Florida's basketball team, the Florida Gators, whose games can attract 20 million TV viewers.
Audiences for college American football games can be even higher, and their stadiums are giant structures. The largest - Michigan Stadium, the home of the Michigan Wolverines - holds 110,000 people.
Yet with 52,000 student athletes graduating each year in the US, fewer than 1% secure professional contracts. Most of the others seek corporate roles.
This switch, and the need to apply for jobs, can be tough for many former college athletes, Mr Cross says.
"It can be one of the most challenging and difficult transitions they will ever face.
"Yet at the same time, which company wouldn't want to employ such talented, high-achieving young people?"
Athlete Connections runs job fairs at universities across the US, solely open to graduating college athletes.
It is free for both the students and the universities, but attending companies pay up to $500 (£300) per event. Pepsi and American Express are among those participating regularly.
Brian Morgan, professor of entrepreneurship at Cardiff Metropolitan University in the UK, says former sports people can make "ideal" business owners or senior employees.
"Being a professional athlete is all about building up your abilities and performing at the highest level," he says. "This is also what starting a successful business is all about.
"Also, typically, high-performing athletes are used to working as part of a team, and being high achievers. Those skills are in demand at all companies."
While not providing quite the same thrill as rugby, Mr White-Cooper said running a business was still exciting.
"I definitely get a buzz - just a different one."