Kickstarter pledges cross $1bn mark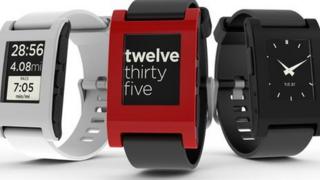 Online crowdfunding website Kickstarter has passed $1bn (£599m) in pledges, nearly five years after its launch.
The site said more than half of that amount was pledged in just the last 12 months.
Donors from the US led the pledges, offering more than $663m, followed by UK with more than $54m.
Kickstarter is one of the leading crowdfunding websites - sites that allow people raise money from donors to fund various projects.
The developers of the Pebble smartwatch are among those who secured big pledges.
The project debuted on Kickstarter in April 2012 seeking $100,000 (£62,000) to complete development of the device.
By the end of its 38-day funding drive it had raised more than $10m and had almost 70,000 backers.
The 'mid' factor
Crowdfunding platforms are becoming increasingly popular.
More than 5.7 million people have backed projects listed on Kickstarter, with nearly 1.7 million of them backing more than one project.
Kickstarter also gave quirky details about the trends in pledges.
According to the firm's data, Wednesday is the most popular day for people to pledge cash, and the middle of the month is also the most productive when it comes to pledges.
The day with most pledges was 13 March last year with 54,187 backers pledging more than $4m to 1,985 projects.