Markets fall on Ukraine tensions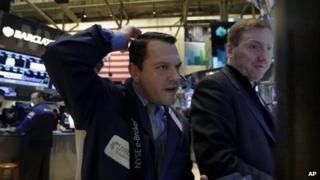 World markets fell on Monday amid a growing sense of crisis over events in Ukraine.
In London, the FTSE 100 closed down 1.5%, while markets across Europe fell as much as 3.5%. Markets in the US also ended the day lower.
Earlier, the Russian rouble fell to a fresh all-time low against both the US dollar and the euro, while Moscow's stock exchange fell nearly 11%.
Analysts said investors were seeking safer havens for their money.
"Risk aversion is rife in the markets as the Ukraine crisis escalated further, prompting investors to rebalance their portfolios away from stocks and toward commodities and other safe haven assets," said Craig Erlam, market analyst at Alpari.
The price of gold - a traditional safe haven - rose 2.5%, a four month high.
The price of oil increased by a similar amount, pushing the cost of Brent crude to close to $112 per barrel, while the bonds of financially strong governments such as Germany and Switzerland also saw increased demand.
The $2.6 rise in the oil price also reflects concerns among investors that sanctions could be imposed on Russia - a major global energy producer.
The BBC's North America editor, Mark Mardell, reports that the US State Department has said it is "moving down that path" of imposing sanctions against Russia.
The EU has also threatened sanctions.
Russian rates rise
Although the threats of geopolitical instability have frequently affected world stock markets, the Ukraine crisis has hit markets like Germany particularly hard because of the country's reliance on Russian gas.
The Dax index in Frankfurt saw some of the sharpest falls on Monday, ending the day down 3.4%.
The BBC's economics correspondent Andrew Walker says Europe has the closest economic relations with Russia and is a major buyer of its oil and gas.
The crisis in Ukraine deepened over the weekend, with Russia now said to be in de facto control of the Crimea region close to the Russian border, prompting a stand-off with the pro-Western government in Kiev.
Phil Orlando, chief equity market strategist at Federated Investors in the US said that uncertainty over how long the crisis will continue was hitting confidence.
"We just have no way of knowing how this is going to play out," he said. "It's a very uncertain situation and the market is demonstrating its unhappiness with that."
Earlier, the sharp fall in Russia's currency, the rouble, prompted the Russian central bank to raise interest rates in an apparent effort to shore up the currency.
It raised its key lending rate from 5.5% to 7%.
Later, the bank's deputy governor Ksenia Yudayeva suggested rates could be raised again if necessary and that it could take further measures to stabilise the rouble.
"We still have lots of room to raise interest rates... and we can further increase our presence in the currency market," she said in an interview with Russian media.