US court rejects BP effort to halt oil spill payments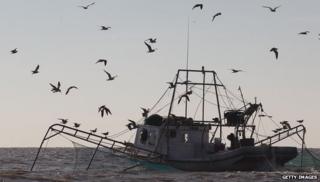 A US federal court has rejected BP's efforts to halt payments relating to the Deepwater Horizon oil spill.
The Fifth Circuit Court also said an earlier injunction stopping payments to claimants should be lifted.
BP had argued that some firms filed fictitious spill claims.
However, "the settlement agreement does not require a claimant to submit evidence that the claim arose as a result of the oil spill," wrote the court in its verdict.
BP has said it disagrees with the ruling.
Billions more
In 2012, BP agreed to make payments to those who suffered economic losses as a result of the disaster aboard the Deepwater Horizon drilling rig.
The explosion killed 11 workers and spilled an estimated four million barrels of oil into the gulf, making it the worst offshore oil spill in US history.
However, BP complained that the payout formula was too generous and meant that people and businesses were being paid huge sums for false claims.
As a result of the ruling, BP will potentially have to pay out billions more to businesses than it had previously thought.
The firm initially estimated the spill settlement would cost $7.8bn (£4.7bn), but later revised that figure upwards to $9.2bn once the full scope of the claimants became apparent.
BP has said that an adverse ruling could push that figure even higher.
As of 11 February, the settlement fund had paid out more than $3.8bn to businesses who claimed to have been adversely impacted by the oil spill.
Another $1bn has been approved but not yet paid.