Global markets steady as Ukraine impact fears ease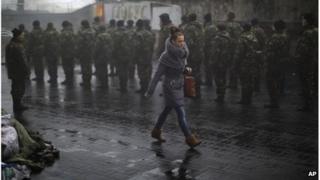 Global stock markets have steadied on Tuesday, with Russia's main share index up more than 5%, after concerns about Ukraine sparked a sell-off on Monday.
Markets across Europe were higher on Tuesday, with the FTSE 100 up 1.7% and Frankfurt's Dax up 2.5%.
The recovery came despite Russia's threat to abandon the US dollar as the country's reserve currency.
And Russia's top gas producer Gazprom also said it would remove a discount on Ukraine gas prices from April.
However, Alexei Miller, chief executive of the Russian state gas producer, has said Gazprom could lend Ukraine between $2bn (£1.2bn) and $3bn to pay off the country's debt.
The offer comes after Ukraine told Gazprom it would be unable to pay in full for gas deliveries in February, according to Russian news agency Interfax.
But the European Union later said it would help Ukraine pay the $2bn it owes Gazprom.
"Payment of the outstanding Ukraine bills is high up in the European Commission's aid package," EU Energy Commissioner Guenther Oettinger said.
Mr Oettinger said the EU could even supply the country with gas.
EU officials are expected to reveal the details of the Ukraine aid package on Wednesday ahead of an EU leaders' emergency summit on Thursday.
Brussels has offered Ukraine 610m euros (£502m) so far, and reports suggest the 28-member bloc could free up an additional 500m euros.
Meanwhile, US Secretary of State John Kerry has announced a $1bn package of energy subsidies, and told crowds in Kiev that President Barack Obama "is planning more assistance".
No more US dollars
Ukraine's interim government has already said that it needs $35bn to pay its bills over the next two years, and has asked the International Monetary Fund (IMF) for rescue funds.
The IMF is currently in Ukraine and will remain there for 10 days, to assess the economy and begin negotiations over a potential bailout.
"We are ready to respond," IMF managing director Christine Lagarde said last week.
She said the body was also discussing with its international partners how best to help Ukraine "at this critical moment in its history".
US President Barack Obama has said Washington is considering economic sanctions to "isolate Russia".
But on Tuesday Russian President Vladimir Putin said those considering sanctions should think of the damage they may incur.
However, in a move that further calmed markets, he told a news conference he saw no need to use military force in Ukraine's Crimea region at present.
The MICEX share index was up 5.3%, while the rouble rose 1.2% to 36.09 against the dollar.
Kremlin economic aid Sergei Glazyev had earlier been quoted as saying that if the US imposed sanctions, Russia "would find a way not just to reduce our dependency on the United States to zero but to emerge from those sanctions with great benefits for ourselves".
He said Russia would figure out a way to use a new payment system that was not reliant on US dollars for international transactions.
The EU has also threatened sanctions, but on Monday a British official was photographed holding policy documents that suggest the UK will not seek to curb trade with Russia or close London's financial centre to Russians.
"The lack of coherent response from the West may actually be providing some reassurance to traders that things won't escalate too far, with the reasoning being that the only thing the West will be firing towards Russia are harsh words," said Jonathan Sudaria, a dealer at London Capital Group, in a note to clients.
Oil prices also dropped, with Brent crude down 2.2% to $109.3 a barrel, with investors believing the threat of supply disruption due to the Ukrainian crisis has decreased.
The price of gold, which normally rises when investors fear global risk, fell by 1.1% to $1,334.8 an ounce on Tuesday.