Cattle prices tumble amid eastern Australia's drought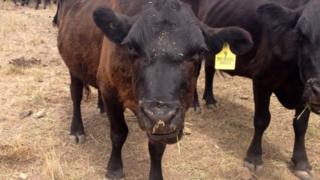 In these drought-hit parts of eastern Australia they pray for rain. The New England region north of Sydney is traditionally some of the nation's best farming country, producing some of its finest beef cattle and wool.
But much of the land is barren and has been without significant rainfall for over a year.
Crops have failed and livestock has been sold off, while many dams are bone dry.
In the paddocks beyond the city of Tamworth, 400km (250 miles) north of Sydney, the drought is the worst that anyone can remember.
"There is a sense of desperation here," says farmer Richard Chamen.
He has sold a quarter of his 400-strong Angus beef herd near the village of Currabubula to pay the bills as the financial stresses of the protracted dry spell intensify.
"It's 30% of the income gone for the year, so I've got to try and make that up in the next 12 months or so.
"The way things are looking I don't see how we're going to be able to do that. It's a real concern.
"You get to my age and you worry about where you're going to go in the future. You've worked hard. What are you going to do?" he says.
"Prices are so depressed. We're getting the same money now as what we got 10-15 years ago for cattle."
With the ground so bare, the cattle are fed large bales of hay.
The distant rumble of a tractor delivering the next meal triggers a response among the herd - the animals rush in from all directions amid clouds of brown dust.
But to survive, many farmers are having to sell their prized cattle, and in the New South Wales city of Armidale, the sale yard has been awash with livestock.
Under a giant tin roof to the bellowing chorus of 2,500 animals, a team of auctioneers, raised on gantries above a throng of men in cowboy hats, makes sales at lightning speeds.
An oversupply of animals means that prices here have tumbled.
But what's good for buyers, who are often from the southern states of Victoria and South Australia where conditions have been far better, has put another dent into the livelihoods of hard-pressed farmers.
"There is no question that we've had a lot of producers that have sold a big percentage of their stock because they had no choice," says auctioneer Victor Moar.
"Water and feed have both been really big issues, especially over the Christmas period.
"That culminated in a big sell off in the first week of January, and prices as a result have been very depressed."
'People can't see a way forward'
Australia is well used to nature's extremes, but not only is this drought so severe, it arrived so soon after the previous big dry.
When farmers suffer, so do the regional towns and cities that feed off agriculture.
First a local chemist may close, followed by the pub or bakery next door, and as jobs slowly disappear and residents leave, communities start to decline.
Russell Webb, the Deputy Mayor of the Tamworth regional council, who is also a cattle farmer, says that for some, life on the land is a desperate struggle.
"People just can't find or see a way forward, and, of course, they become very depressed.
"As we know some people take it that next step, the final step, which is really, really sad."
'It is quite horrendous'
While many businesses wither, others are able to thrive in such parched times.
Robert Cavanagh runs a Tamworth-based haulage company transporting livestock around Australia.
His firm's workload has increased by 150% in recent months because of the mass sell-off of cattle by drought-ravaged farmers.
Despite his good fortune, he feels the pain of the region's beef producers.
"I've been up here [in] New England for 30 years and this is by far the worst we've ever seen for this part of the country," he tells me.
"It is quite horrendous for a lot of people up here, and particularly because traditionally this is some of the safest country in Australia.
"So it is uncharted territory for a lot of people."
Dry autumn
The government has approved emergency drought relief worth 320m Australian dollars ($286m; £171m).
The country's Prime Minister, Tony Abbott, says he does not want the outback to become a "museum piece".
But while the authorities may be delivering some rare good news to farmers, sadly the all-important long-range weather forecast is not.
"We're not looking too good at the moment in terms of rain and we're looking like having a dry autumn," says Russell Webb.
It seems that more anxious times lie ahead before a region's prayers are finally answered.