McDonald's says wages could rise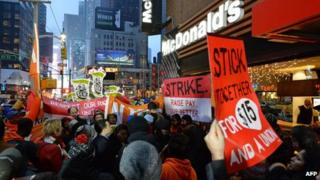 Fast food giant McDonald's has said growing concerns over income inequality may force it to raise its wages.
It said the public focus on the issue "may intensify" over the coming months.
But it warned that higher wages might impact its profit margins if it cannot offset them by raising prices as well.
Fast food companies have been under increasing pressure to raise wages and workers at various outlets, including McDonald's, have held strikes in recent months.
In its annual filing with a US financial regulator, McDonald's said the long-term trend was "toward higher wages and social expenses in both mature and developing markets, which may intensify with increasing public focus on matters of income inequality".
Fast food workers across the US have been demanding that the minimum wage in the sector should be raised to $15 per hour.
In December, workers in the fast food industry held strikes in 100 cities across the US.
The firm warned that such strikes "can adversely affect us or the suppliers, franchisees and others that are also part of the McDonald's system and whose performance has a material impact on our results".