Australian government rejects Qantas $2.7bn loan request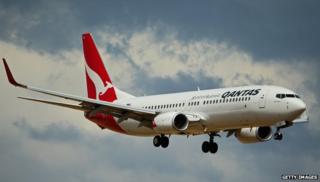 The Australian government has rejected struggling airline Qantas's request for an A$3bn ($2.7bn; £1.6bn) loan.
Instead, Australian Prime Minister Tony Abbot said the government plans to change rules preventing foreign investment.
However, Mr Abbot has not yet won support of opposition senators, who say the move could send jobs overseas.
Last week, Qantas reported a first-half loss of A$252m ($225m; £135m) and said it would cut 5,000 jobs.
"We sent in various experts to have a look at Qantas, and the conclusion that we came to based on their advice was that Qantas does not need an unsecured facility from the government," said Mr Abbot in an interview with local radio.
The Australian government is being advised by accounting firm PricewaterhouseCooper.
Current ownership rules, which date back to the 1990s when Qantas was made private, limit the total foreign holding in the airline to 49%, with foreign airlines allowed to own just 35%.
Qantas has said this has hurt its growth.