February was Singapore's driest month since 1869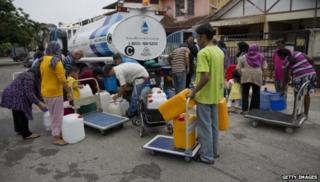 February was Singapore's driest month since 1869, according to Singapore's National Environment Agency.
During the month, there were only seven days of short showers, with some areas receiving as little as 0.2mm of rain.
Drought has hit the wider region in recent weeks, threatening to raise food prices and slow economic activity.
Officials in Kuala Lumpur, Malaysia's capital, started rationing water in February and forest fires have broken out in Indonesia's Riau province.
While Singapore relies on Malaysia for about 60% of its water imports, experts say that the country's recent efforts in desalination and recycled water technology have made it much less reliant on neighbouring countries.
Singapore's Minister for the Environment and Water Resources, Vivian Balakrishnan, has said that new technologies could provide about 55% of the country's demand for water regardless of rainfall.
Nonetheless, Singapore's public water agency has started a campaign to urge residents to conserve water, as the dry weather is expected to persist into March.
Palm oil hit?
Nearby Malaysia and Indonesia could be harder hit, however, by continued dry temperatures.
Malaysia and Indonesia account for 86% of the world's palm oil output - one of the most-used edible oils globally - and economists in the region warn that output could be hard hit by the dry weather.
Investor anxiety has caused the price of palm oil futures to surge in recent days, reaching a 17-month high.
Malaysia's International Trade Minister, Mustapa Mohamed, has also warned in recent weeks that the drought could slow overall growth in the region if it persists.
But he insisted the region was still on track for 5% economic growth this year, as agriculture is only a small portion of the Malaysian economy.
Wai Ho Leong, a senior economist at Barclays, told the BBC the impact of the drought had not affected food prices so far.
However, he added: "If the drought persists for some time and intensifies [it] could increase the number of forest fires in the vicinity and worsen the air quality to the point that economic activity is curtailed."