Standard Chartered ends decade of profit rises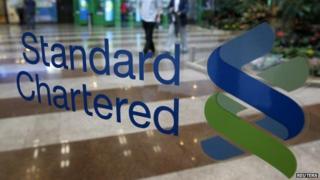 Asia-focused lender Standard Chartered has said profit before tax for 2013 fell 11% to $6.06bn (£3.64bn), ending a decade of profit rises.
The lender, based in London, said a $1bn writedown of the value of its South Korean business had hurt its profits.
Last year, chief executive Peter Sands abandoned a sales growth target of at least 10%.
Bad loan losses rose to $1.62bn, from $1.2bn in 2012, the bank said.
"While 2013 has been a challenging year, I believe we remain in good shape to support our clients and customers, and the growth opportunities for the business remain compelling," the bank's chairman, Sir John Peace, said in a statement.
Mr Sands, who has led the bank since 2006, has said he will sell businesses that are too small or unprofitable and plans to combine the bank's retail and wholesale businesses, a move that will save the bank money. Costs in 2013 fell 5% to $10.2bn.
`Modest growth'
The bank said in January that finance director Richard Meddings would step down and wholesale banking chief Mike Rees would become deputy chief executive.
Mr Sands leads a bank facing rising regulatory costs after it was fined $667m by the US in 2012 for breaches of US sanctions on Iran.
"Our outlook for 2014 is one of modest growth," Mr Sands said. "Market and trading conditions are more volatile and difficult than a year ago.
"While current performance momentum is ahead of the second half of last year, performance in the first half of 2014 will remain challenged, both at an income and profit level."