Geneva Motor Show: A Briton at the wheel of BMW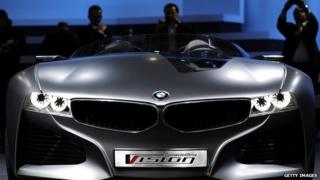 BMW has had a good recession. Never let a crisis go to waste, goes the saying. And the German manufacturer didn't, steering its way through the global slump to emerge stronger.
The evidence is on BMW's huge stand at the Geneva Motor Show. Shiny new products, powered by leaps in technology.
It is the result of huge investments made during years when many rivals were paralysed by fears of collapse.
Ian Robertson remembers clearly, six years ago, the moment BMW decided to take evasive action ahead of the motor industry's downturn.
As sales and marketing chief - and member of its board of management - at the world's largest premium carmaker, he is arguably the most senior Briton in the global motor industry.
It could so easily have gone wrong.
Barely a few weeks into the job, Mr Robertson recalls, he was in a car with BMW chief executive Norbert Reithofer, on their way to the Paris car show.
"I was looking at my Blackberry at the latest car sales figures. It was, 'Minus 22, minus 35, minus 32'.
"We had a chat in the back of that car, and over the next month took a number of very clear decisions," he says.
'We protected our cash'
One key move was slashing production over the next three months to reduce the stockpile of cars.
"We didn't know just how bad the industry's recession was going to be, but we ended 2008 with a clear inventory - unlike most of our competitors who had tons of inventory going forward and didn't react.
"We protected our cash balance," he says.
"In 2009 we were able to focus on lots of new products, while a lot of companies were just thinking, how do we survive?"
Last year BMW, and its UK brands Mini and Rolls-Royce, all saw record sales.
That is not bad considering that the global economy is only just in recovery mode, and given that car sales in Europe were the worst since 1995, according to the industry trade body ACEA.
BMW's Europe sales dipped just 0.7%.
Mr Robertson says there will be disappointment if sales records are not broken again this year, although he warns that the industry should be prepared for huge volatility in emerging markets.
"One thing that we were very clear about during the difficult years - and it will be the case this year and beyond - was that we were going to continue our model offensive."
Changing face of retail
The fruits of this offensive have been on display here at Europe's premier car show, and include the unveiling of the first front-wheel BMW, the new BMW 4 series Gran Coupe, a new Mini and the Rolls-Royce Ghost series II.
The company is also showcasing its electric technology with the award-winning i3 city car and the i8 sports car.
BMW has bypassed hybrid technology, and gone straight for all-electric vehicles.
Using new battery technology and lighter composites BMW is positioning itself for when electric vehicles go mainstream - as Ian Robertson believes they will, once more charging infrastructure is built.
BMW's emergence from the recession as a stronger outfit is in no small measure due to a pretty slick marketing operation, which has also seen huge investment.
"The whole future of retail is probably going to change in the next five years faster than it has done in the last 100 years, because our expectations are all different.
"Probably 80%-85% of our customers do all their research in the digital world before they come through the showroom doors.
"We have redesigned our digital platform but as a consequence the whole environment in the dealer process has to change too.
"We are redesigning the whole process of how a car is acquired," he says.
BMW started Product Genius - modelled on Apple's Genius Bar - with more knowledgeable staff and tablet-holding product experts.
'Best-in-class'
The company has also introduced its Drive Now car-sharing service in which drivers can rent by the hour, and even by the minute.
The need to adapt to the digital environment is not rocket science. But coming up with a plan is always easier than executing it.
However, many in the industry would agree when Mr Robertson says: "I think our digital platform is recognised as best-in-class."
It is all light years away from when he started out in 1979 as a graduate trainee at strike-ridden Rover.
That company was bought by BMW in 1994, along with Land Rover, MG, and Mini.
BMW failed to turn around the UK business and sold it - minus the Mini brand - for a token £10. It was the nadir of the once-proud UK motor industry.
Now he sits in BMW's distinctive four-cylinder Munich headquarters and sees something of a revival.
The BMW factory near Oxford churns out award-winning Minis.
Rolls-Royce, moved to a new factory in 2003, is still used as an adjective meaning the best of the best.
Elsewhere, India's Tata Group is enjoying huge success with Jaguar and Land Rover.
Rebalancing the UK's economy
"Car manufacturing in the UK is approaching levels which have not been seen since the 1960s - and is probably set to exceed previous highs," Mr Robertson says.
UK executives and politicians frequently point to Germany as the template for the UK's industrial revival.
As a Brit abroad, Mr Robertson sees definite positive signs in his homeland.
Manufacturing and the need to re-balance the UK economy is back on the agenda.
The apprenticeship system - something he says is key to BMW's success - is being re-built in many UK companies.
But if there is a lesson to be taken from BMW's success, he says it is that nothing can be achieved overnight. It requires laying firm foundations.
"The UK's structure of industrial success was lost. It's changing. But people must remember that this race is not a sprint, it's a marathon."