Ofgem to investigate SSE and UKPN over Christmas power cuts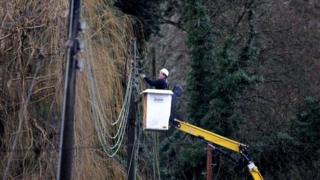 Ofgem is to investigate the response of Scottish and Southern Electric (SSE) and UK Power Networks (UKPN) to the storms that left thousands of homes without power last Christmas.
About 16,000 homes were left without electricity following the winter storms, which battered the east coast of England and Scotland.
Ofgem said most homes were reconnected within 24 hours.
But SSE and UKPN failed to reconnect power to 500 homes for over five days.
The regulator criticised the energy firms for the way they handled customer inquiries. It said one in five callers to UKPN and SSE hung up the phone before speaking to a customer adviser.
Ofgem added that all energy companies would be required to conduct a review of their response to the severe winter weather and report back the lessons they had learned within two months.
About 26,000 customers be could be entitled to a total of £2m in guaranteed standards compensation following the Christmas storms, Ofgem said.
SSE is expected to make 67% of those compensation payments with UKPN responsible for a further 26%.
Both energy companies have already promised to pay compensation totalling £7.5m to customers that were cut off over Christmas.
The regulator will also consult on whether to increase the guaranteed standards payment to customers who are cut off as a result of severe weather in the future.
Possible fine
Hannah Nixon, senior partner for distribution at Ofgem, said the regulator was very concerned by the "variations in effect" the storms had on customers in different parts of the country.
She added: "If our further investigation into the performance of UKPN and SSE during the 2013 Christmas storms suggests that these companies have breached their licence conditions, we will undertake enforcement action that could result in a financial penalty."
Last month, Ofgem ordered the "big six" energy firms to hand back more than £400m owed to customers.
Credit left in customer accounts when people and businesses move or switch suppliers had accumulated over the past six years, Ofgem said.
The energy regulator, which says its estimates are the minimum owed, called the amount "unacceptably large".