Budget 2014: The housebuilding challenge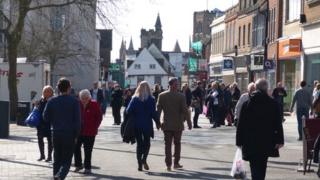 If you want to buy a house, do not go to the Hertfordshire city of St Albans.
In one estate agent's window, 16 of the 20 properties on display are already sold or under offer.
But even rarer than the sight of a house for sale is the sight of a house being built.
Last year there were just 220 housing starts in St Albans, which equates to one new house for every 636 of the city's residents.
"We have hundreds who'd like to buy, but there's nothing out there," says local estate agent Ed Raine.
"There is a lack of anything," he tells the BBC.
The St Albans scenario - a woeful lack of new homes - is familiar in towns and cities right across the South of England, including places such as Oxford and Cambridge.
So as he prepares his Budget, is there anything that Chancellor George Osborne could do to help?
'Affordability crisis'
Last year just 109,370 new homes were completed in England, the lowest figure for four years.
Yet the number of households is expected to grow by 221,000 every year this decade.
The result of that shortfall - according to a basic principle of supply-and-demand economics - is that house prices will continue to rise, making them even more unaffordable.
Indeed, the National Housing and Planning Advice Unit (NHPAU) estimates that we need 280,000 new homes a year "to restrain the long-term rise in prices".
The housebuilding industry itself also believes there is a direct link between prices and supply.
"We need to see a sustained period - probably 20 to 25 years - of very much higher levels of homebuilding to solve the affordability crisis," says the Home Builders Federation (HBF) in its Budget submission to the chancellor.
The HBF is also asking for a return to the idea of "outline" planning permission, and for local authorities to be given more resources to speed up decisions.
It also recommends that the first part of the government's Help to Buy scheme be tapered, rather than ended abruptly, in March 2016.
"A cliff edge would reduce homebuilding," it says.
While Mr Osborne may argue that Help to Buy has already resulted in many new homes being built, his long-term challenge is to keep a lid on prices.
Existing market
That challenge is not straightforward.
First, not everyone accepts that the supply-and-demand equation works in practice.
The Campaign to Protect Rural England (CPRE) has long argued that the price of housing is set by the existing market. Since 90% of houses for sale are second-hand, the price of new homes makes little difference.
"We do not support the simple economic argument that house prices will fall if we boost housing supply," says Fiona Howie, the CPRE head of planning.
"New housebuilding is a remarkably inefficient means of improving housing affordability," she adds.
But there is another problem for the chancellor.
Extra housebuilding is not always popular among homeowners, many of whom naturally vote Conservative.
Many residents of St Albans are certainly opposed to new homes being built in the city.
"I like the fact that it's a desirable place to live. Because I'm already in the housing market, I'm OK," says Laura.
Another local resident, Yvonne Bennett, believes there is no need for new homes.
"I think they should utilise what they've got," she insists.
'Eco-towns'
Such attitudes may explain why David Cameron, having talked about plans for new garden cities a year ago, has been silent on the issue since.
Similarly, his prime ministerial predecessor, Gordon Brown, promised 10 new "eco-towns", none of which was built.
The plans were cancelled by the coalition, arguing that "top-down" planning does not work.
Yet the government has tried hard to improve the planning process.
Under the National Planning Policy Framework (NPPF), local authorities can no longer pass the buck to neighbouring councils.
Each authority now has to identify its own housing need, and allocate land appropriately.
The trouble is that half the councils involved have still not got such a policy in place.
Memorial
However, the government has loosened many other planning restrictions.
"The system is starting to work more efficiently," says a spokesman for the HBF.
"But there are still blockages, and it's taking too long," he tells the BBC.
Labour, meanwhile, is putting its faith in a housing review, under the chairmanship of Sir Michael Lyons, that is expected to report this year.
However, to judge by the chancellor's recent remarks to a House of Lords committee, no-one should expect to erect an early memorial to Mr Osborne the house-builder.
"I imagine if we were all assembled again in 10 years' time we'd still be talking about the challenge of making sure that our housing supply kept up with housing demand," he said.
So is he going to fix it soon? By his own admission, probably not.