Staples to close 225 North American stores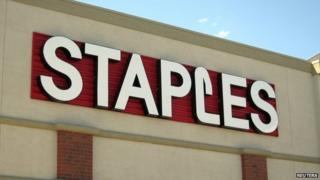 US office supplier Staples said it will close 225 stores in North America, more than 10% of its presence, as shoppers move online and its sales slump.
Sales in the final three months of the financial year fell 10.6% to $5.87bn (£3.5bn), the retailer said in a statement.
Staples has 1,846 stores in the US and Canada after closing 42 stores in 2013.
The company said the closure will help it save $500m of costs a year by the end of 2015.
The company's shares fell by almost 16% in New York trading.
Almost half of the company's sales are now made online.
"A year ago, we announced a plan to fundamentally reinvent our company," said Ron Sargent, Staples' chief executive.
"With nearly half of our sales generated online today, we're meeting the changing needs of business customers and taking aggressive action to reduce costs and improve efficiency."
Staples has struggled to keep shoppers from buying supplies from online shops such as Amazon.
The move comes two days after US electronics retailer Radio Shack said it would close 1,100 stores - nearly 20% of its total - in an attempt to turn around its fortunes.