The guitar firm playing a new fundraising tune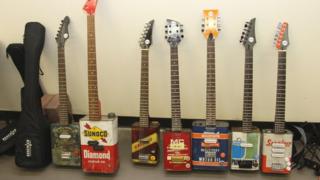 Brothers Adam and Shaun Lee are hoping that a new way of raising money will help their guitar-making business perform on the global stage.
The Atlanta-based entrepreneurs create guitars from empty oil cans.
They got inspiration from their early childhood in South Africa, where street musicians make and play such homemade instruments.
Adam, 28, and Shaun, 25, launched their company - Bohemian Guitars - in 2012, and have big expansion plans.
"The long-term vision for the business is that we see ourselves growing into the lifestyle brand of the musical instrument space," says Adam.
Yet like most start-up firms, securing financial backing initially proved difficult.
Banks told the brothers they needed to see $1m (£600,000) in annual revenues before the business would get any loans. The company, of course, was only seeking the loans to enable them to reach such revenues.
Venture capitalists and angel investors also declined to take a risk on them.
"Bank loans are not easy to get," says Adam. "[And] we don't really fit the investment criteria for the majority of these [investment] firms."
Instead the brothers - like a growing number of small companies in the US - turned to crowdfunding.
So far so normal, but as Bohemian Guitars is based in Georgia, they were able to use a form of crowdfunding which, until later this year, is, in effect, banned in all but four US states.
Removing barriers
Crowdfunding enables companies to secure funds from a large number or "crowd" of individuals, typically via a dedicated crowdfunding website, such as two of the largest - Kickstarter and Indiegogo.
By far the most common form of crowdfunding is called "reward crowdfunding". Under this model people give a company money in exchange for a reward or perk, such as being among the first to secure delivery of a new product.
The main alternative is called "equity crowdfunding", by which individuals buy a stake in the company in question.
At present in the US, equity crowdfunding is only open to wealthy, accredited investors, people who have proved that they are worth at least $1m.
The US financial watchdog - the Securities and Exchange Commission (SEC) - currently bans the rest of the population from taking part in equity crowdfunding.
This longstanding rule was put in place to prevent people who can't afford to lose money from falling victim to investment fraud.
Yet with crowdfunding having grown so much in popularity in recent years, at the same time as people's general investment knowledge has increased, regulatory opposition to equity crowdfunding in the US is being removed.
Later this year the SEC is due to open up equity crowdfunding to all investors.
Before then, four states have in recent years used exemption laws to allow such equity crowdfunding. The states in question are Georgia, Kansas, North Carolina and Washington.
Headaches for firms
Georgia passed its exemption in 2011, allowing any resident to invest up to $10,000 in an equity crowdfunding scheme issued by a company based in the state.
As a result, Bohemian Guitars raised $126,000 last October through a crowdfunding campaign from both accredited and non accredited investors. The company is now raising additional capital via crowdfunding website Fundable.
Adam and Shaun Lee are using the money to boost production of their guitars, which start from $299, and reach profitability.
For entrepreneurs without access to wealthy networks or connections to traditional funding sources, equity crowdfunding - which is already allowed in the UK - can be an appealing option.
"The plus side is pretty compelling," says Ross Baird, executive director of Atlanta-based Village Capital, which invests in early-stage companies, and helps to train entrepreneurs.
But he adds that equity crowdfunding can also carry big risks.
"I do wonder how having lots of small investors, who now own a stake in the company, is going to potentially influence the way that the entrepreneurs interact with their customers," Mr Baird says.
Rather than focusing on finding and pleasing customers, an entrepreneur needs to worry about serving a slew of investors. That can create headaches for fledgling businesses.
No shotguns
To avoid such headaches, New York-based entrepreneur and chocolatier Peter Moustakerski says he is very careful about what investors he accepts.
The boss of Voila Chocolat, which enables people to make their own chocolate, has used equity crowdfunding to sell shares in his company.
As equity crowdfunding in New York is currently open to wealthy, accredited investors, those are the ones he has deliberately targeted.
Investors in his firm have put forward a minimum of $25,000 (£15,000).
"My approach has been more selective," says Mr Moustakerski. "Not just a shotgun approach."
Experts say it's too early to say how equity crowdfunding will work in the long term.
Ethan Mollick, assistant professor of management at the Wharton School of the University of Pennsylvania, suggests that entrepreneurs use caution.
"I think equity crowdfunding could be viable, but I think you need to wait to see how it all works out," he says.
He adds that while reward-based crowdfunding can plug entrepreneurs into a business-savvy community, which can offer feedback on new products, without strings attached, that dynamic can change when campaign contributors become shareholders.
Back at Bohemian Guitars, Adam and Shaun Lee plan to outsource production of their guitars to China, so they can keep up with rising demand.
"I'm confident 2014 is going to be a record year," says Adam.