Head of Cyprus' central bank resigns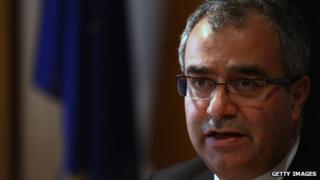 The head of the Cypriot central bank, Panicos Demetriades, has resigned.
He reportedly experienced difficulties with Cyprus' government and had been criticised for his handling of the country's 10bn-euro (£8.3bn) bailout.
There was no official statement on Monday about why he had stepped down.
Mr Demetriades' departure comes after Cyprus' bailout was thrown into doubt when its parliament rejected a key part of the plan, and then passed it a day before the deadline was due to expire.
'Difficult times'
A spokesperson for the European Central Bank said: "The ECB takes note of the resignation of Panicos Demetriades who has been the governor of the central bank of Cyprus through very difficult times and played an important role in the implementation of the adjustment programme."
They added: "We count on a fruitful cooperation with his successor."
Cyprus was nearly bankrupted after Greece's financial crisis in 2010.
The country's banks were hit heavily but its government did not have the funds to issue a bailout.
Slow economic growth and the stance of international lenders, who stopped offering loans, added to the pressure on the country's finances.
Mr Demetriades, formerly an economics professor at the University of Leicester, was appointed in May 2012 for five years by Cyprus' former communist president, Demetris Christofias.
The former president has reportedly been blamed for policies which could have contributed to Cyprus' crisis.
Last year the country's banking system was rescued from collapse by a 10bn-euro bailout from the EU and International Monetary Fund.
Current president, Nicos Anastasiades, said in September he might ask the country's supreme court to rule on whether Mr Demetriades could be sacked.
That was despite the ECB last year issuing repeated warnings to the Cypriot authorities not to interfere with the governor's work.
Last month Cyprus' lawmakers threw the bailout programme, and the country's next tranche of cash, into doubt over a bill allowing state firms to be privatised.