High-frequency trading firm Virtu to go public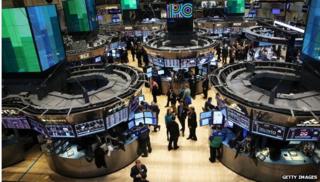 Virtu, a high-frequency trading firm in New York, has filed paperwork with US regulators for a public share sale.
Founded by former New York Mercantile Exchange head Vincent Viola, it is the first high-speed trading firm to become a publicly listed company.
Virtu reported profits of $184m (£111m) in 2013, a 108% increase from 2012.
High frequency trading is where traders create complicated algorithms to buy and sell stocks in milliseconds, faster than any human.
It has grown in popularity in recent years, but it has also come under scrutiny for supposed risks.
Virtu said in its regulatory filing that the company has only recorded only a single day of trading losses in the past five years.
Virtu says it plans to be listed on the Nasdaq Stock Market under the symbol VIRT.
It aims to raise around $100m in its share sale, although that number could change based on investor demand.
Risky business
In May 2010, computerized trading was blamed for the "flash crash" which briefly sent US markets down 5% before the error was discovered.
Ever since, there has been increasing focus on the rise of electronic trading and their impact on traditional stock exchanges.
Knight Capital, a New Jersey-based trading firm, lost close to $440m and almost had to file for bankruptcy after a computer glitch caused the firm to execute 150 mistaken orders to the New York Stock Exchange.
The US Commodities Futures Trading Commission (CFTC) recently said it was looking into regulating trading practices at firms, after publishing a report on the industry in September.