Japan says weak demand will dent exports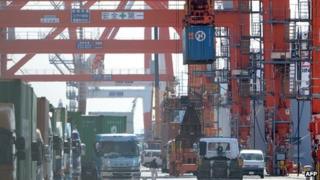 The Bank of Japan (BoJ) says the country's exports have levelled off recently, a reversal of the recovery the central bank saw in February.
The BoJ cited disappointing external demand for the change of assessment.
However, the central bank is confident of economic expansion at home to help maintain its growth momentum.
Companies are pouring more money into their businesses, and factory activities are rising at a slightly faster pace.
Recent data showed industrial production had risen by 4% in January, which indicated an increase in factory activities for the second month in a row.
April tax
But there are concerns that domestic demand and consumer spending will slow down from next month.
On 1 April the government will increase the country's sales tax to 8% from the current 5% in order to pay for rising welfare costs.
The assessment on exports, as well as confidence on domestic growth, comes from the end of the central bank's monthly meeting on monetary policies.
Also at the meeting, the central bank maintained its pledge to expand the monetary base by 60 trillion yen ($590bn; £354bn) to 70 trillion yen per year.
The central bank's latest meeting took place as the country marks the third anniversary of the Fukushima nuclear disaster.
Japan now imports more than 90% of its energy from overseas and the weak Japanese yen means the country has high energy costs, which has led to a continued widening of its trade deficit.