Sports Direct founder Ashley in line for £65m bonus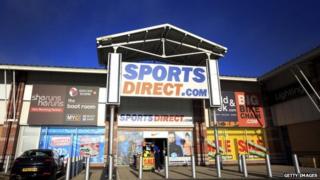 The UK's biggest sports retailer, Sports Direct, plans to give founder Mike Ashley a share award worth £65.8m.
The firm will propose that Newcastle United owner Mr Ashley be granted eight million ordinary shares.
The largest institutional shareholder has indicated that it will vote to approve the package on 4 April.
The shares would pay out in July 2018 for Mr Ashley, who currently receives no salary or bonus from Sports Direct, which he founded in 1982.
The company wants to award the shares in recognition of the firm's success.
Odey Asset Management has confirmed that it intends to vote in favour of the award, Sports Direct chairman Keith Hellawell said.
The share award is conditional on the firm achieving full-year core earnings of £330m in 2014 and £410m in 2015, and other financial conditions.
A similar proposed award for Mr Ashley has been unsuccessful twice before.
One came after shareholder concerns over related performance targets, and another award attempt by the firm failed to be put to a vote.