Manchester United shares bought by US investment firm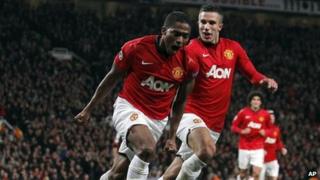 US investment firm Baron Capital has bought a quarter of all Manchester United shares available on the New York Stock Exchange, it has been revealed.
The company now owns 24% of all shares in the Old Trafford club that were listed by the Glazer family in 2012.
That only represents a small proportion of the club, as only 10% of the club was floated on the stock exchange.
The Glazer family still controls 90% of the Premier League club and the vast majority of boardroom votes.
The team currently sits sixth in the Premier League, and needs to secure fourth place if it is to play Champions League football next season, with the boost in revenues that such participation brings.
An indifferent season has seen the share price drift downwards. However, the stock closed at $15.84 on Monday - the highest level since November.
A securities and exchange commission filing on the Manchester United investor relations website states that Baron Capital now owns 9,581,636 shares,
They were worth $151m (£90m) at the close of the market on Monday.
'Remain positive'
Baron Capital says it is watching closely the announcement of a new United kit deal, which is expected to be signed with current kit suppliers Nike.
A new kit deal will be worth hundreds of millions of pounds, and there have been reports that United has been talking to potential rival suitors such as Japan's Uniqlo.
"Shares of Manchester United dropped... due to a delay in the signing of a new global merchandise deal with Nike and the team's poor performance on the field," said a Baron Capital statement on its website.
"The Nike deal is still expected to be signed, but has been pushed out from this fiscal year. We remain positive on the company's prospects going forward."