Where doss Euan Sutherland's resignation leave Co-op?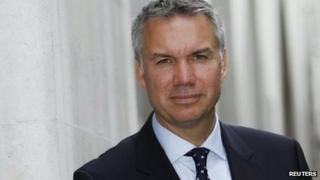 The Co-operative Group has accepted its boss Euan Sutherland's resignation, but could the group have stopped him leaving, and what will become of its troubled bank?
Why is Co-op Group in such a mess?
Co-op, which has predicted losses for 2013 in excess of £2bn, owns lots of businesses, including a bank, supermarkets, pharmacies, undertakers and a farming operation.
Its pharmacies have come under financial pressure, as the NHS tries to save money on prescriptions, and are not thought to be well-integrated with other Co-op activities.
Meanwhile, it is reportedly trying to sell its farming division, and its stores have dropped in value, as has goodwill from its Somerfield takeover in 2009.
But its bank is thought to be the main cause of its woes.
What is wrong with the bank?
Co-op's banking division started off as an unprofitable franchise, had to deal with losses from abandoned IT projects, took on Britannia Building Society and was saddled with its bad debts, and dealt with a high percentage of low-income customers.
It was also affected disproportionately, for its size, by the Payment Protection Insurance scandal and, until last year, had a lack of financial expertise at the top, crystallised by the saga with its former chairman Paul Flowers.
These issues left it extremely vulnerable to the economic downturn in recent years.
Is Co-op Bank's rescue deal safe?
A senior worker at the Co-op Group is reportedly worried that the bank could be put into administration if the leadership at the top is seen to be fracturing.
This could cast doubt on whether the wider Co-op Group carries on with a plan to inject £260m into the bank as part of its £1.5bn rescue deal - the rest of the cash coming from bondholders.
It is hoped lessons learned from Northern Rock, which was formerly a mutual society like the Co-op, will make a repeat of its demise unlikely. Northern Rock was nationalised in early 2008 after becoming the UK's first banking victim of the credit crunch - a move that cost the government £37bn.
Co-op's assets could be combined with another bank if the management reshuffle does affect its solvency. Co-op Bank and Lloyds TSB nearly combined in 2012.
What could the boss's resignation mean for customers?
If a change of management at the top saw the bank fall into administration, its customers' savings could be threatened, although at this stage such an outcome is only speculation.
But the first £85,000 of a customer's savings would be protected by the Financial Services Compensation Scheme.
How could the situation have been resolved?
In an emergency meeting on Monday night, the Co-op Group board agreed to put forward a series of proposals on corporate governance.
This board shake-up could mean commercial decisions being taken in a similar way to that of a usual public company.
Such a board would have five professional non-executives and two executives. The decision-making power would be taken away from elected representatives, meaning the group's democratic structure could be lost.
But not all members of Co-op's existing board want the new model, and they still have the power to block it.
The reform would have to be approved by the annual general meeting on 17 May.
Why is Mr Sutherland's salary relevant?
Mr Sutherland's decision to resign was sparked by leaks over the weekend that his pay for 2013 and 2014 would be £3m.
According to Meg Hillier, Labour and Co-operative MP, Mr Sutherland had the power to resolve the situation.
He should have explained the salary, "if he believes he is worth it", she said, but should not have agreed to take it if he was embarrassed by it. "We want him to sort out the group," she said.
Could Co-op have rejected the resignation?
Co-op could not have refused to accept Mr Sutherland's resignation, but the former boss could change his mind if it was in the "heat of the moment", according to case law.