Italian bank UniCredit reports record 14bn-euro loss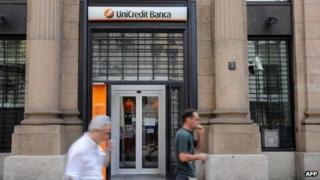 Italy's biggest bank, UniCredit, has reported a record annual loss of 14bn euros (£11.7bn; $19bn) and said it plans to cut 8,500 jobs.
The bank, Italy's biggest by assets, put aside 13.7bn euros to cover losses from bad loans in 2013.
UniCredit is trying to take stock of its financial position before European regulators conduct an industry-wide health-check in the coming months.
The planned job cuts will see the bank lose about 6% of its workforce by 2018.
Despite the news, UniCredit shares rose by almost 6%, after it said it would not need a capital increase, and that it was confident it would get a clean bill of health when the European Central Bank reviews the finances of the eurozone's 128 biggest banks.
Italian recovery
"I believe the group has turned the page," said UniCredit's chief executive, Federico Ghizzoni.
"We could have staggered the losses over several years. We decided to take them all in one year.
"I am serene. We have done more than what will be required."
The bank's huge loss, largely due to troubles in Italy and Eastern Europe, was one of the worst suffered by a European bank since the beginning of the financial crisis.
The company is to create an internal 'bad bank' to manage a further 87bn euros of bad and risky loans, which will be reduced to 33bn euros in the next five years.
But Mr Ghizzoni said he was planning a net profit of 2bn euros in 2014, based on signs of economic recovery in Italy, which accounts for 40% of the bank's revenues.