ChinaVision shares soar 250% on Alibaba purchase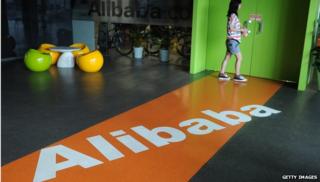 Shares in Chinese media firm ChinaVision soared over 250% after Alibaba announced it paid $804m (£484m) for a controlling stake in the company.
That represents about 60% of ChinaVision, which produces and distributes movies and television dramas.
Alibaba's purchase is one of many the internet giant has made to stave off competition from rival Tencent.
Tencent currently owns about 8% of ChinaVision.
That percentage will reduce to 3% after the sale.
Alibaba bought ChinaVision in an effort to retain current users, and it comes after it launched a TV operating system, Ali TV, last year.
Buying boom
Alibaba is set to make its public stock market debut in the US this summer, with many analysts valuing the firm at around $140bn.
It has long been the dominant e-commerce firm in China, but it has faced stiff competition in the space from Tencent, China's largest internet firm.
This has led to consolidation in China's internet industry, as the two firms snap up smaller companies in a bid to control the e-commerce space.
The purchase comes just a few days after Tencent announced it had bought a 15% stake e-commerce site JD.com for $215m, which could increase once the sale is completed.