Thailand cuts interest rates to lowest in three years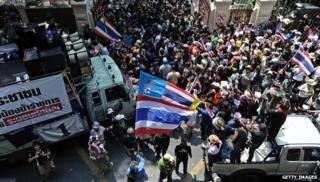 The Bank of Thailand cut its benchmark interest rate by 0.25 percentage points to 2%, its lowest level in three years.
The move comes amid continuing political turmoil in the country.
It is the second rate cut since November, as the bank tries to encourage spending after a slowdown in economic growth.
"Downside risks to growth have risen" in the wake of the prolonged political situation, the central bank said in a statement.
Thailand's economic growth has slowed recently, to just 0.6% in the last quarter of 2013 from 2.7% in the previous quarter.
Tourism slump
The bank noted that tourism had been particularly hard hit.
However, it added that it was optimistic about growth in the region helping Thailand's economy.
"Prolonged political uncertainties would continue to impede the recovery of private consumption and investment. Nonetheless, exports of goods should gradually improve on the back of a recovery in major economies," the bank wrote.
Prime Minister Yingluck Shinawatra has faced months of protests aimed at ousting her elected government and installing an unelected "people's council" to oversee reforms.