Japan brings kaizen philosophy to Ethiopia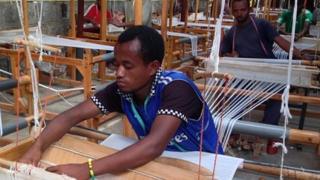 "Sorting, setting in order, shining, standardising, sustaining," proclaims a handwritten poster stuck to the wall of a shed where women gather twice a week to make craft items in the village of Faniekir.
Kaizen, the workplace philosophy that helped guide Japan's recovery from the ruins of defeat in World War Two, has reached the rural uplands of southern Ethiopia.
Simple principles of tidiness and self-discipline are among the foundations of an approach that so impressed the late prime minister Meles Zenawi that he adopted it as national strategy.
Now it is helping women in southern highland villages develop businesses to supplement their farming work.
"We've got social recognition. Since we organised this, farmers come and sell to us and local government administrators respect us," says Amelewerk Haile, who chairs the Faniekir women's craft group.
"As women we cover many domestic expenses, plus we get more recognition from our husbands because we have got more skills."
Mr Zenawi learned of kaizen at a 2008 Tokyo conference on African development - and its themes now feature in numerous Ethiopian projects supported by Japanese aid.
Experts from a government institute spread the message. Listening to their upbeat enthusiasm it would be easy to dismiss this as a passing management gimmick.
But behind the campaign lies a seriousness of purpose that reflects the massive challenges facing the country.
Population challenges
With a population of 92 million, which is growing by 2.6% a year, Ethiopia is Africa's second most-populous country.
The government has set a goal of reaching middle-income status by 2025.
But it will be impossible to achieve this on the back of traditional farming.
Already rural population growth imposes huge environmental strains, evident in widespread soil erosion and deforestation.
So Ethiopia is pursuing a "growth and transformation plan", to expand manufacturing employment and help rural communities diversify their livelihoods.
Motivation and competitiveness will be key. That's where kaizen comes in.
For Ethiopia's challenge is comparable to the task that faced Japan in the 1950s as it began to build a modern industrial economy in a largely rural society.
Evolving mainly in the countryside but soon taken up by industrial groups such as the car-maker Toyota, kaizen - which means "livelihood improvement" - came to encompass a range of development ideas.
But at its heart are simple principles:
Keep the workplace tidy
Encourage workers to suggest innovations, rather than wait for instructions
Work with local resources
Japan later promoted the philosophy in emerging economies such as Egypt and Tunisia. Their experience impressed Meles Zenawi.
"What we hope to achieve through the introduction of the kaizen system is improvement in the productivity of all our enterprises, public and private," Mr Zenawi once said, explaining why he had sought Japan's help.
"It's based on the creativity of all employees; it involves all employees in the improvement of quality and productivity of a company."
'We are very much interested'
Teams from the Ethiopian Kaizen Institute visit factories and offices to help them adopt the philosophy.
The early months of a company programme concentrate on organising the workplace and building a team ethic, explains institute general director Getahun Tadesse.
Motivation, productivity and creating a mood of change come next, while the long term theme is on innovation and management.
On a recent visit to Addis Ababa, Japanese Prime Minister Shinzo Abe said the institute should become a centre of excellence for human resource development across Africa.
Tadesse says kaizen is being applied in 160 companies so far, and last year his staff trained around 11,000 people.
The designer Sara Abera, founder of hand-woven textiles maker Muya Ethiopia - whose products are now sold in London and New York department stores - is keen to take up the philosophy.
"We have not yet started kaizen, but we are trying to get someone to come and train us," she says.
"We are very much interested. We have heard a lot about it. Meles used to talk about it."
'Workers have to be involved'
Some themes are uncontroversial, such as reorganising a factory shop floor to save space.
But persuading bosses to listen to their staff - and giving workers the self-confidence to make their own suggestions - is a bigger task.
"Workers have to be involved," says Bonsa Regassa, one of the advisory team.
"We are seeing a cultural change in Ethiopian workers."
And the application of kaizen is not confined to factories in the capital, Addis Ababa.
Across Ethiopia the Japan International Co-operation Agency (Jica) spends around $100m a year, and sometimes more. Much is focused on supporting rural activity such as village craft-making.
That's how kaizen thinking even finds its way to communities such as Faniekir, 125 miles (200km) south-west of Addis.
"We are trying to apply kaizen principles not only in our workshop but in our homes," says craft group leader Amelewerk Haile.