Royal Dutch Shell admits 'challenging' 2013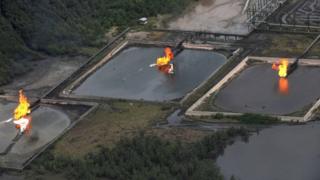 Royal Dutch Shell has said it had a "challenging year" in 2013, in part due to deteriorating security in Nigeria.
Nevertheless, the company said it has "laid firm foundations for the future".
Profits from refining operations were hit in Asia and Europe by an oversupply of global capacity and lower demand, the company said.
Several areas of Royal Dutch Shell's business had operated below their full potential in 2013, chief executive Ben van Beurden said.
"In 2014, we will strive to build on our track record of delivering new projects. And we will continue to use a clear set of strategic themes to guide decisions about investment and technology," he said.
The company will scale back its exploration and drilling in the Americas over 2014, reducing spending by 20%, due to losses from operations such as shale gas extraction.
Annual profits at Royal Dutch Shell fell to $16.75bn (£10.05bn) in 2013, from $27bn in 2012.