Worker-owned firms in Scotland 'more successful'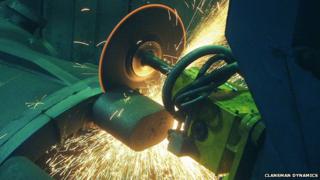 Businesses owned by their employees outperform their competitors on employment, sales and productivity, new research has found.
A team from St Andrews, Edinburgh Napier and Stirling universities looked at what they have called the "John Lewis economy" in Scotland.
They said there had been "considerable growth" in the number of such firms.
They identified 45 employee-owned firms headquartered in Scotland, which employ about 2,500 people.
Recent examples of firms becoming employee-owned include AquaScot, Clansman Dynamics, Voice Technologies and Woollard & Henry.
The universities said their study marked the first time Scotland's employee-owned firms had been examined in a detailed way by academic researchers.
Lead author, Dr Ross Brown, of the University of St Andrews, said: "The John Lewis economy is alive and well in Scotland.
"However, it appears that it is small dynamic SMEs who are most eagerly embracing the employee-ownership model in Scotland."
He added: "Scots employees appear to be very successful capitalists and employee involvement seems a very good recipe for the success of these businesses."
Prof Robert Raeside, who also contributed to the study, said: "The performance of Scottish employee-owned businesses is generally superior to their counterparts on a number of different variables.
"In terms of their employment and sales growth, employee-owned firms do better than non-employee owned firms."
Prof Ronald McQuaid, from the University of Stirling, said: "These findings largely mirror other research undertaken elsewhere in the UK and abroad and further strengthens the evidence base concerning the growth performance of employee-owned firms."
Prof McQuaid claimed the findings suggest that "support for fast growing employee-ownership firms is likely to lead to benefits throughout the Scottish business community."
A spokesman for Clansman Dynamics said the company had seen turnover, productivity, profits and employee numbers increase significantly since becoming employee-owned in late 2009.
He added: "Employee ownership has help produce a workforce who are both knowledgeable and engaged in our markets and product development strategy."