Pinkberry co-founder sentenced in homeless man beating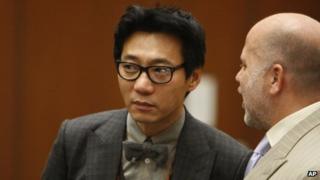 The co-founder of frozen yogurt chain Pinkberry has been sentenced to seven years in prison for beating a homeless man in Los Angeles with a tyre iron.
Young Lee was convicted in a California court in November of attacking Donald Bolding in June 2011.
Mr Bolding was said to have flashed a graphic tattoo at the people in Lee's car, including his fiancee.
Lee, 49, a former kick boxer-turned-architect, co-founded Pinkberry in 2005 but left the company in 2010.
Prosecutors allege Mr Bolding was begging beside a Los Angeles road when he exposed a sexually explicit tattoo on his stomach.
This was seen by Lee, his then-fiancee and another man in the couple's Range Rover.
Lee returned later with an accomplice, chased Mr Bolding and beat him before passers-by intervened.
In addition to prison time, Lee may be ordered to pay restitution to Mr Bolding.
He is said to have suffered a broken forearm and cuts to his head in the attack.
The entrepreneur was previously sentenced to two days in jail and three years probation stemming from a cocaine charge and the carrying of a loaded firearm in 2001.