US factory output rebounds in February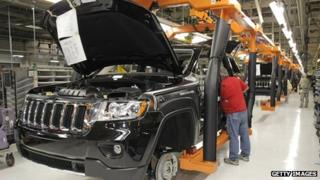 US factory output rebounded in February, helped by a recovery in car and consumer goods manufacturing.
Output rose by 0.8%, from January - the biggest gain since August last year.
The gain nearly reversed the 0.9% decline in January, which resulted, in part, from extreme cold weather across many parts of the country.
Analysts said the figure suggested that manufacturing activity was likely to pick up pace in the coming months as weather conditions improve.
"Assuming that the weather returns to seasonal norms, output will rise rapidly in the coming months,'' Paul Dales, an economist at Capital Economics, said in a note.
According to the latest figures released by the Federal Reserve, car manufacturing rose 4.6% during the month, after having fallen 5.1% in January.
Total industrial production in the US, which includes mining and utilities, also rose by 0.6% during the month. That compares with a fall of 0.2% in January.
Continued recovery
The figures are the latest in a series of numbers released this month that have pointed to a recovery from the severe weather conditions.
Data from the US Labor Department showed that the US economy added 175,000 new jobs in February,
The jobs figures were better than many had been expecting and marked a rebound from two weak months.
Earlier this month, the Institute for Supply Management's (ISM) manufacturing index rose to 53.2 from 51.3 in January.
A reading above 50 indicates expansion and the ISM's reading for February was better than analysts' forecasts.
Separate data showed construction spending also rose slightly in January, helped by residential construction.