'China's Twitter' Weibo goes global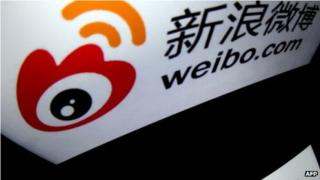 One dollar for every user is what China's version of Twitter, Weibo, seeks to raise in financing.
Weibo has just announced plans to offer shares to the public for the first time in the US and seeks to raise $500m (£300m), which works out to be one buck for each of its users.
Five-hundred million is the number of users that Weibo says that it has, although in its filing with US regulators, Weibo reported 129.1 million active users in December - still a considerable number at twice the population of Britain.
Its owner, Sina Corp, has seen a massive surge in net profit, jumping to $44.5m (£27m) in the last quarter of 2013 from a mere $2.4 (£1.4m) a year ago.
Its CEO, Charles Chao, says that it is driven by value-added services and advertising on Weibo where such earnings jumped by 163% to $56m (£34m).
Weibo's revenues were $188m (£113m) last year, more than doubling from 2012's $65.9m (£40m).
Decline in users
Its numbers are comparatively modest relative to Twitter's revenues which hit $242.7m (£146m) in the last quarter - its first reported earnings after its IPO.
Twitter has 241 million monthly active users which exceeds Weibo's, with a quarter of its users based outside of the US, while Weibo is yet to make significant inroads globally.
Crucially, both companies face the challenge of declining active users.
For Weibo, after three years of strong growth after its founding in 2009, it lost 9% of users last year including to Tencent's WeChat, a new messaging app that sends pictures and videos at low cost.
Another similarity is that both companies have also yet to make a profit.
Weibo reported a loss of $38m (£23m) in 2013 while Twitter's loss came to $645m (£387m) last year.
There are challenges, though, that Chinese internet companies face.
In its regulatory filing, Weibo warned of new regulations where users who knowingly create or share information considered to be defamatory or false could face up to three years in prison.
Weibo is where microbloggers have at times cleverly masked their actions and criticisms of government policy through euphemisms. For instance, during the Arab uprisings in 2011, there were calls on Weibo and other social media sites for "Sunday strolls" across Chinese cities by activists to try to launch a "jasmine revolution".
Mixed signals
Recall that Twitter itself is banned in China.
The mixed signals toward social media and the internet by Chinese authorities extend beyond Weibo.
Recent attempts by e-commerce giant Alibaba and China's largest internet firm, Tencent, to expand online banking payment systems through developing virtual credit cards were halted by the authorities.
The abruptness of the action caused the suspension of trading of CITIC, a large Chinese bank, after its shares fell by 7% on Friday.
The bank was the partner of those web companies and was to issue the virtual cards that were to use QR code payments that can be scanned with a mobile device to make electronic payments.
This is despite the push by the Chinese leaders at the National People's Congress to promote privately funded banks that included both firms in the initiative.
Despite the complicated environment for Chinese internet companies, there is a big appetite among investors to own shares in some of the largest web companies in the world.
Chinese giant search engine Baidu saw its shares rise by 354% on the first day of its IPO in 2005, launching it into the record books as the best performance ever by an overseas company and ranked it at 18th overall, trailing only the exuberant gains of the dotcom era.
Its latest offering Qunar, a Chinese travel booking service, raised $167m (£100m) in its IPO last autumn that exceeded the marketed range.
The biggest IPO expected since Facebook, Alibaba's highly anticipated public offering, is reportedly headed to New York and could be as soon as next month.
All in all, China's massive market of internet users has spawned companies that are globally appealing despite the iron fist of Chinese regulation that is yet to be masked in a velvet glove.