Asian markets 'brush off' worries about Crimea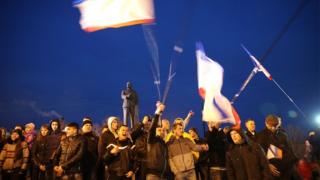 Asian shares had a mixed trading session on Monday, with the vote in Crimea backing a union with Russia failing to have a major impact.
Japan's benchmark Nikkei 225 closed down 0.35% at 14,277.67.
Hong Kong's Hang Seng index fell 0.3% while, the Shanghai Composite Index closed up nearly 1%.
"The market has almost entirely brushed [Crimea] off because it was expected," said Invast Financial Services's Peter Esho.
Global markets fell last week as investors worried about the Ukraine crisis and China's economy.
Some 95.5% of voters in Crimea - a region of Ukraine near the Black Sea - have supported joining Russia, officials say, after half the votes have been counted in a disputed vote.
Both the European Union and the US have condemned the referendum as illegal and many Crimeans loyal to Kiev boycotted the vote.
Crimea's leader has said he will apply to join Russia on Monday. Russia's Vladimir Putin has said he will respect the Crimean people's wishes.
Capital flight
The outcome has prompted the US and the EU the to issue fresh warnings of possible sanctions against Moscow.
While the fallout was relatively minimal in Asia on Monday, Mr Esho warned that talk of sanctions imposed against Moscow could see further reaction in the markets.
"There are reports of huge flights of capital outside of the United States by Russian nationals back into Russia in anticipation of sanctions going through," he said.
"And what we have seen in recent history is that that has the ability to cause imbalances in certain markets."
Mr Esho said his firm would be tracking gold prices "very carefully" as well as oil.
"We'll [also] be watching pockets of investment where some Russian capital outside the United States might find a home," he said.
China's yuan
Another factor that could affect markets this week is China's decision to double the yuan's daily trading band against the US dollar to 2%.
Essentially, it will allow China's currency valuation to be affected more by market demands.
The move, which was announced over the weekend by the People's Bank of China, has been welcomed by the US and signals China's intent to become more flexible with its exchange rate in the future.
It is part of an ongoing process whereby the Chinese are allowing their currency to become more freely traded on the market.
"It's a process that is slower than what some had expected, but it's part of a well-thought out process," said Mr Esho.
"The last thing that China wants to see from an artificially inflated currency is high inflation.
"They've allowed their currency to appreciate, but they want to make sure that it's conducted in an orderly way, so this is all part of that process," he said.
The US and China have regularly disputed the value of the yuan, which is also known as the renminbi.
Investors will also be keeping their eye on the outcome of the US Federal Reserve's policy meeting on Tuesday and Wednesday. It will be the first under new Fed chair Janet Yellen and could see a further reduction in US stimulus efforts.