Eurozone inflation falls to 0.7% in February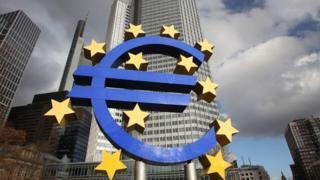 Inflation in the euro area fell to 0.7% in February, down from 0.8% in January, revised figures have shown.
The Eurostat estimate puts the inflation rate well below the European Central Bank target of just below 2%.
The lower rate may reinforce concerns that the 18-nation eurozone risks a damaging period of deflation.
However, the European Central Bank (ECB) is confident that eurozone economies are recovering from recession.
Euro-area inflation started to fall from 3% at the end of 2011 and passed below the 2% mark at the beginning of 2013.
Deflation, or falling prices, can encourage businesses and consumers to delay spending and wait for possible bargains, inhibiting economic growth.
The ECB expects inflation to gradually increase to 1% in 2014, before reaching its target 2% in 2016.
Earlier this month, the ECB forecasted a gradual increase in economic growth in the eurozone to 1.8% in 2016.