Barclays awards top executives almost £32m in shares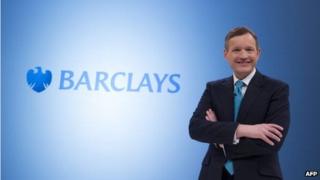 Barclays has awarded shares worth almost £32m to its top executives.
The total rewards, which include elements of salary and long-term incentives, are almost 25% lower than those handed out last year and include more executives.
The bank's chief executive, Antony Jenkins, was given shares worth £3.8m, but sold about half of them to meet tax liabilities.
Barclays made underlying profits of £5.2bn last year - a fall of 32%.
Despite that drop, it announced a 10% increase in its bonus pot to £2.4bn. It also said it planned to cut up to 12,000 jobs this year, including 7,000 in the UK.
The shares awarded on Tuesday include parts of executives' annual pay, bonus awards for 2013, proceeds from long-term share plans stretching back to 2008, and bonus awards deferred from previous years.
Mr Jenkins' share award is not part of his annual salary - he is not eligible for role-based share allowances until June this year, after the company's annual general meeting. Mr Jenkins was paid £1.6m last year, after waiving an annual bonus.
Other awards included shares worth about £8.8m to Skip McGee, Barclays' chief executive in the Americas, and £8.6m for its joint head of corporate and investment banking, Eric Bommensath.
In 2013, the bank handed nine of its executives just over £40m in shares, although this included £18m worth awarded to former investment banking chief Rich Ricci.
This year's awards went to 12 executives.