Eni plays down sanction fears over Russian oil and gas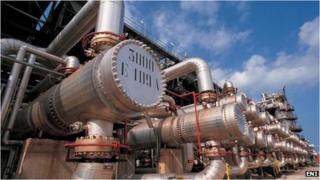 Italian energy firm Eni does not expect tensions over Ukraine to impact the firm's imports of Russian oil and gas.
Eni is one of biggest customers of Russian energy giant Gazprom and Russia supplies more than half of Italy's imported gas.
"Europe needs Russian gas," said Paolo Scaroni, Eni's chief executive.
He also said Eni had concluded talks with the previous Ukrainian government to explore for oil and gas off the coast of Crimea.
But the change of government has thrown that investment into doubt.
"We are in the middle of being assigned a block without knowing who it belongs to," Mr Scaroni said in an interview with the BBC.
Russia's share of Europe's gas market rose last year according to a new report.
Eurogas, which represents European gas companies, says that Russian gas accounted for 27% of consumption in the 28 countries of the European Union last year.
That is up from 23% in 2012.
But the report also showed that the total volume of gas used fell for the third year running in 2013.