Toyota ends lockout at its two India plants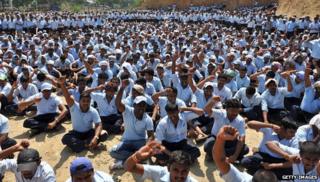 Toyota, the world's largest car manufacturer, announced it will end a lockout dispute at its two India factories.
It said employees can return to work on 24 March as long as they sign a contract promising good conduct.
Negotiations over a wage increase, which have been going on for the past 10 months, remain unresolved.
Toyota had instituted the lockout after saying some employees had threatened supervisors.
It had said it was forced to stop production after a month when "certain sections of the employees have resorted to deliberate stoppages of the production line, abuse and threatening of supervisors thereby continuously disrupting business".
More than 6,000 workers are employed at the two factories, which make 310,00 cars a year.
Indian sales made up just 1.6% of Toyota's total sales volume last year.