Everton extend shirt deal with Thai beer firm Chang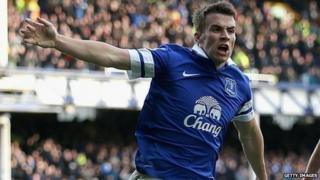 English Premier League club Everton has signed a three-year extension to its shirt sponsorship deal with the Chang beer brand from Thailand.
The partnership started 10 years ago and is the longest-running shirt sponsorship in the league.
The Merseyside club said the new deal was potentially worth more than £16m $26.60m).
The deal will also see club academy coaches train youngsters in Thailand, to help improve the game there.
Everton chief executive Robert Elstone said it was an important deal for the Goodison Park club, which currently sits sixth in the Premier League and is eyeing a Europa League spot next season.
"This year we're the beneficiaries of a massive new TV deal, and that money, clearly, is representing a bigger and bigger proportion of our total income," he told the club's official website.
"But it's the income around that makes the difference and can give us a competitive advantage over our rivals.
"All the clubs in the Premier League are benefitting from a big cheque from the broadcasters - it's the other business that really separates you and gives you the step up over others."