Debt management firms selling 'unsuitable' plans, says FCA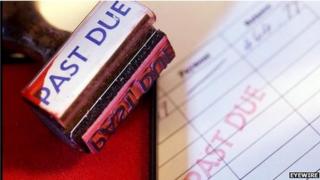 Debt management companies are persuading people to sign up for "unsuitable" and expensive repayment plans, the Financial Conduct Authority (FCA) says.
The regulator believes these plans do not offer the best value for money for people already struggling with debt.
It also wants firms to give customers information on how they can get free debt advice.
Some debt management plans can cost £620 per year, the FCA said.
More than half a million of these agreements are started annually, most of them with fee-charging firms.
Free help is available from Citizens Advice, National Debtline and other charities, according to the FCA.
'Unacceptable'
"Debt management firms must start putting consumers first," said Christopher Woolard, the FCA's director of policy, risk and research.
"It's frankly unacceptable that these people who are struggling to make ends meet are being talked into unsuitable plans."
From 1 April the FCA will be responsible for regulating consumer credit and it plans to bring in new regulations.
These include a requirement for firms to provide customers with information on how to get free debt advice and for firms to pass more money on to creditors right from the start of the plan.
Debt management firms gather up all a consumer's debts and pay back the creditors on that individual's behalf. They take their fee out of the borrower's money as it comes in each month.