Singapore's Temasek deal hits Hutchison shares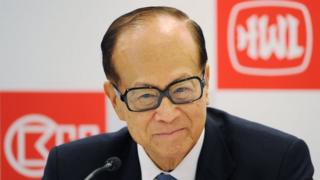 Shares in Hutchison Whampoa have dropped sharply on the news that it is selling a stake in its beauty and retail business to Singapore state investor Temasek Holdings.
Hutchison's shares fell 5.1%, the sharpest drop for more than two years.
Last week Hutchison agreed to sell a 25% stake in its retail arm, AS Watson, to Temasek for $5.7bn (£3.5bn).
The deal means a delayed initial public offering (IPO) for AS Watson, which took many analysts by surprise.
Hutchison had launched a strategic review of its retail operations in October last year, with the aim of part listing the company in Hong Kong, among other financial centres.
But when Hutchison announced the sale of the stake to Temasek, it said in a statement that both parties would work together towards a listing of AS Watson at "a suitable time".
Analysts now expect an IPO to take place in two to three years.
Growing sector
The acquisition of the stake in AS Watson gives the Singapore state investor an interest in a sprawling retail business with more than 10,500 stores operating in 25 markets worldwide.
AS Watson's business includes supermarket chain ParknShop as well as personal care stores Superdrug and Watsons.
A flagship brand - Watsons operates more than 4,000 stores with more than 900 pharmacies, which operates in nine Asian markets.
The deal gives Temasek a foothold in the region's retail sector, which has benefitted from rising consumer spending.
Temasek said the acquisition fitted its long-term strategy. "The consumer retail sector is a good proxy to growing middle income populations and transforming economies. We continue to believe in the growth opportunities and long term prospects of Asia, particularly China, and a recovering Europe," said Chia Song Hwee, head of Temasek's investment group
Hutchison said it would use part of proceeds from the deal to pay a special dividend to shareholders.